The Little Prince
Spare Parts Puppet Theatre, Fremantle WA. Directed by Michael Barlow. July 5-19, 2014
The Little Prince bends on a stripped bare Spare Parts Puppet Theatre stage, with no legs or drapes and the lighting rig, fly lines, back wall and fire extinguisher visible. There is a large wooden crate, centre stage.
A man (Jacob Lehrer) and a woman (Jessica Lewis) appear to unpack the crate. She is distracted and dreamy, and will later play/operate the Little Prince. He is very 'grown up', responsible and focused on the task at hand and he will later play all of the other roles. The performers are both personable actors and relaxed, capable puppeteers.
The crate, as it is unpacked, reveals smaller crates which open in a myriad of creative ways to create the worlds of the Little Prince.
The storytelling style, of organically seeming to grow from nothing, is perfectly enhanced by Jiri Zmitkos' natural, all wooden design.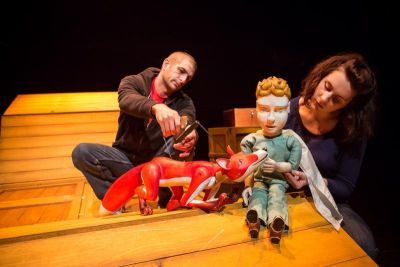 The Little Prince is a lovely tribute to the book by Antoine de Saint-Exupery and a wonderful way to introduce or further explore the text. The performance is very moving and clearly captured the imaginations of the young audience.
If you get a chance to participate in a question and answer session with the cast after the show, grab the opportunity. The actors work beautifully to answer the (often funny) questions of their young audience and obviously have a good understanding of both this show and the inspirational book.
The show runs under its advertised fifty minutes and while advertised for 4 to 12 year olds I feel it has a much broader appeal. Given the themes and the unusual presentation style I feel this may have much resonance with young teens, so don't leave them at home if taking younger children.
The Little Prince is a beautiful, haunting and sophisticated production for children, that will appeal to all ages.
Kimberley Shaw
Photographer: Jessica Wyld.