Little Women The Broadway Musical
Book by Allen Knee. Music by Jason Howland. Lyrics by Mindi Dickstein. Bankstown Theatre Company. Director: Diane Wilson. Musical Director: Greg Crease. Choreographer: Edward Rooke. Bankstown Arts Centre, Olympic Parade, Bankstown. March 21 - 30, 2014.
Fond childhood memories of the Little Women will, I'm sure, flood back for many audience members in an engaging community theatre production of this gentle charm musical. Wisely the writers have plumped for intimacy, not padding the show with chorus numbers that can overburden adaptations of intimate literary sources, even paring back the novel's secondary characters.
In casting the four March sisters of the title and their beloved Marmee, Bankstown has created a very special 'little' family of trained, talented music theatre performers, with a special little touch of cross-generational casting.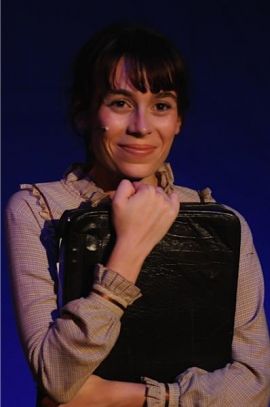 Rebecca Matheson grabs the strong-willed, tomboyish individuality and sometime-fragility of second sister and central character Jo entirely, matching a warm, engaging characterization with an assured vocal performance.
By contrast, Hannah Farrant-Jayet lands the more conventional, sensible domesticated oldest sister Meg as a warm, sympathetic and practical sort of character.
Emotionally closest to Jo, Amy Toledano's third sister and sensitive family mediator Beth, a shy home-body, touchingly convinces us she's at peace with life and her own mortality in Act 2.
Amy, often frustrated by being youngest of the brood, is convincingly impetuous and precocious in Kate Selsby's hands; selfish, yes, yet ultimately Kate makes her quite endearing in her own way.
The rapport between this quartet is palpable; you sense they've bonded beautifully during rehearsals, and now carry it onto the stage, with credible sibling chemistry. Their four strong music theatre voices also combine beautifully.
Add to that dramatic and musical blend Dale Selsby's maternal yet knowing Marmee; relating credibly to the girls, she's a strong family anchor, chiming in with a rich, mature music theatre voice.
Act one meanders along without a great deal happening, as we get to know and relate to the characters. That will be an issue for some, in search of a bit more action, but it's down to the story and script, rather than the production, which strives to keep everything moving along briskly.
Diane Wilson's indomitable Aunt March bears the hallmarks of the always-memorable archetypal grand dowagers of Hollywood literary adaptations.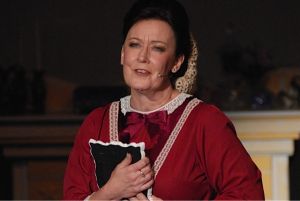 Some of the male characters are less interestingly drawn and of secondary importance, with both Laurie and Mr Brooke, as written, portraying very predictable and steadfast suitors. They give the capable Patrick Diggins and Greg Thornton, respectively, thinner material to work with than the ladies, and less chance to make an impact. By comparison the less conventional Professor Bhaer comes across interestingly as the ideal life-foil for Jo in Gavin Leahy's sensitively layered performance.
Christopher Griffith's Mr Laurence, initially a grumpy old man, has an attractive warmth as he gradually becomes a sympathetic friend to the March family.
Attractively and effectively designed for this black box theatre, watercolours are projected onto mid-stage screens, with the panels sliding aside to reveal a fixed setting of the March home as required. Even there, the window is a projection. Emulating illustrations for a book, original artworks by Vince Cairncross act as backdrops to all other scenes. All are watercolours, except for a striking pastel in black, white and grey tones, with a touch of yellow, capturing the essence of a period book-plate, as backdrop to the melodramatic pantomime enactment of Jo's gothic thriller novel. It's a splendid scenic solution, moving the action along nicely, with the simple animated projection of a kite a very special moment.
Costuming suits this genteel, but impoverished, family of the period well.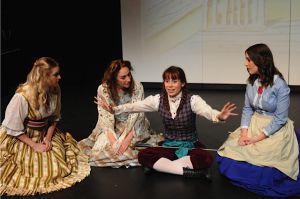 If Act One of Little Women meanders along pleasantly enough, the dramatic odds elevate after intermission, with three touching musical sequences absolute highlights of the evening. Rich sisterly love and pathos are delivered in the duet 'Some Things Are Meant To Be' between Jo and Beth; there's a touching attic scene between Jo and Marmee, displaying the depth of their bond, and an engaging duet for Professor Bhaer and Jo, 'Small Umbrella in the Rain', gently convinces that they are a true match.
As always, one of our best and most experienced MDs, Greg Crease, ensconced beneath our seating with his splendid small band, ensured a polished musical experience.
If Louisa May Alcott's Little Women is the ultimate girls' novel, Bankstown's production of this gentle charm musical should go a long way to pleasing that fifty percent of the population, while surprising more than a few accompanying 'boys' along the way.
Neil Litchfield