Livvy and Pete
Adelaide Fringe Festival. Fortuna Spiegeltent. 26th February, 2018
Acclaimed cabaret performers Amelia Ryan and Michael Griffiths have teamed up for this year's Adelaide Fringe to pay homage to Australian treasures Olivia Newton-John and Peter Allen.
Sashaying down the winding staircase with maracas in hand and wearing a floral shirt was Griffiths, who looked comfortable camping it up as he sang the opening bars of "I Go to Rio". He was accompanied by drums and bass and it took only moments for the audience to start singing along.
Joining him was the stunning Ryan, who after giving birth only 4 months ago managed to squeeze into black lycra leggings, leather jacket and red stilettos, mimicking the costume Newton-John wore in the last scene from the smash-hit movie Grease.
Together, this duo was sublime! The pair oozed chemistry and confidence as they chatted with an attentive audience.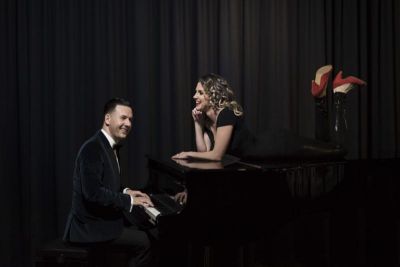 Hits such as "Arthur's Theme", "Summer Lovin'", "I Honestly Love You", "Tenterfield Saddler" and the patriotic "I Still Call Australia Home" were favourites. Ryan and Griffiths were more than happy to gush about the iconic performers who made the songs famous, while they also gave a short history of the origins of the numbers.
Ryan made several hilarious costume changes as she performed hits "Physical" and "Xanadu". Plenty of lycra and roller-skates added to the allure, bringing back memories to an audience who were clearly fans.
This show was full of energy from start to finish and it was infectious. I did not want the merriment or memories to end.
Both performers have other shows in this year's Adelaide Fringe.
I can't wait to see this talented duo perform again; I arrived as a reviewer and left as a fan.
Kerry Cooper