Lizzie's A Darlin'
By Siobhán Wright. Irish Theatre Players. Directed by Siobhán Wright and Siobhán O'Gara. Townshend Theatre, 61 Townshend Rd, Subiaco WA. Feb 20-29, 2020
Lizzie's A Darlin' and so is is this delightful little World Premiere production by Irish Theatre Players, coming to the end of its run in the newly named Townshend Theatre, in the Irish Club in Subiaco.
A feel good comedy with a heap of Irish charm, and some clever touches, this is a wonderful nostalgia trip that flows well, keeping the audience engaged and laughing throughout.
Often when a writer directs and acts in their own work, it can be a disaster, but the joint direction between the two Siobháns (Wright and O'Gara) is clear and evident, and Siobhán Wright makes a lovely cameo that tops and tails this play very well. Her scenes are well supported by yet another Siobhán - Siobhan Rushe - who plays the small but important role of Emma very nicely.
The bulk of the play is set in the 1930s, nicely recreated on a cosy set by George Boyd and Liam Kirwan - with "ring of truth" costumes and properties by Stef Hayward and Máire McGinley. The cast establish a lovely sense of time and space with characters that are well written and warmly brought to life.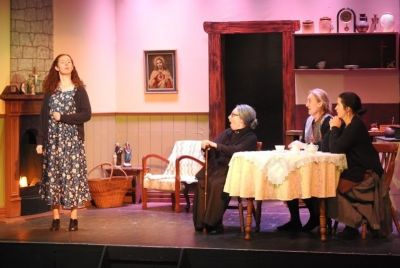 Louise Moran brings spark and life to the title role, in what I believe is her first Perth community theatre appearance, in a dynamic performance. Lizzie's shy and awkward older sister Brigid is beautifully portrayed by Eve Kennedy, with great feeling in what was an excellent theatrical debut. Lovely contrasts and teamwork between the sisters.
Marian Byrne is an audience favourite, with outstanding comic timing, as cantankerous, overtly religious and opinionated matriarch "Mother", bouncing beautifully off Denice Byrne, as the worried, financially strapped Kitty. Kitty is the anchor of the show, and the most serious role, and Denice gives her depth, strength and likability.
Good support from Mary Carroll, lovely as neighbour Nora, and Conor Rice, if a little young for the role, as unlikely love interest Peader - in what will be his final show in WA.
If you don't leave feeling better than you walked in, from the wonderful hospitality of the Irish Theatre Players, then this warm hug of a show is guaranteed to make you feel grand.
Kimberley Shaw