Loot
By Joe Orton. Sydney Theatre Company. Drama Theatre, Sydney Opera House. September 16 to October 23, 2011.
This production of Joe Orton's famous play Loot is a rollicking ride directed by Richard Cottrell who clearly understands the art of the farce and fortunately for the audience so do his cast.
This is just good old fashioned fun, lots of laughs, quick witted humour and stage fighting which is quite well executed.
Darren Gilshenan's Truscott is pure genius. His gift of comic timing along with his ability to read an audience, makes his performance truly a delight to watch. William Zappa is sublime as McLeavy and simply disappears into his performance. The rest of the cast rise to the challenge set by these two champions and turn in a well paced depiction of this modern classic.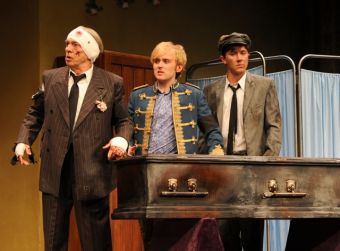 Victoria Lamb's set design and costumes are fabulous and set the perfect tone with all of those little details reminiscent of the sixties era.
This production isn't going to change the world, but then theatre doesn't always have to try to do that does it? What it does do though is deliver on what it promises - a funny couple of hours away from reality.
Whitney Fitzsimmons
Images - From top - Darren Gilshenan and William Zappa; William Zappa, Robin Goldsworthy and Josh McConville; Josh McConville, Caroline Craig and Robin Goldsworthy & Darren Gilshenan in STC's Loot by Joe Orton
Photographer: Heidrun Löhr.
To keep up with the latest news and reviews at Stage Whispers, click here to like us on Facebook, or follow us on Twitter.