Love Fail
By David Lang. Yarra Valley Opera Festival. Directed by Luke Leonard and presented by Gertrude Opera (online opera festival). 16-25 October, 2020.
Love Fail is an original work by David Lang that is inspired by the varied accounts of Tristan and Isolde. This story of star-crossed lovers has been adapted in many forms and continues to be pervasive in our cultural landscape. However, Love Fails is heavily focused on allusion and creates a unique and new text to address this classic tale. This performance is mystical and eerie in the way it elicits the spirit of the characters and their elusive and often shadowy presence.
Lang highlights some quirky aspects of the story and has woven them into the production employing a very poetic approach. He borrows from Marie de France's version of the tale where Tristan carves his name on a stick for Isolde to find. Lang uses the image of the branch as one of ways of showing how their love is so strongly tied to nature. Lang is also inspired by Gottfried von Strassburg's version which emphasises that Tristan and Isolde are not drinking wine but a cup of their never-ending sorrow in the form of a love potion.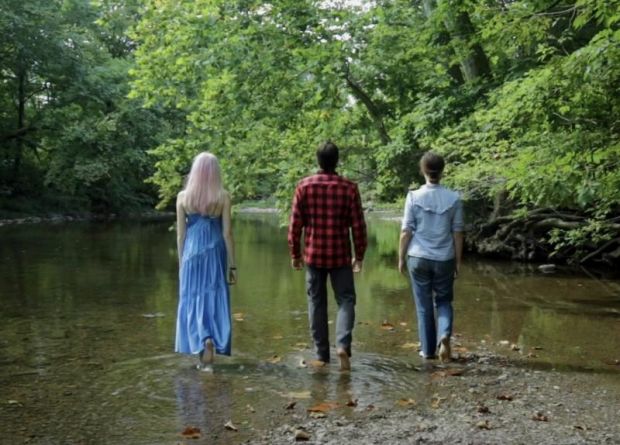 These elements are echoed in the powerful imagery that accompanies the haunting and penetrating music. Leonard sets the piece outdoors where the protagonists sit in striking contrast with the landscape yet blend into the natural surroundings. Their positioning often appears incongruous, especially through costuming and colour and the aesthetics of the shots look for symmetry and balance as well as depth and perspective. The very stylised approach to the choreography gives the imagery a very theatrical tone and mirrors the poetics of the lyrics perfectly. This is especially true when the rhythm of the music fully exploits dramatic pause. The effect is delicate and captures the fragility and turbulence that govern this love story.
The performance involves an 'a cappella' (unaccompanied) chamber opera for four voices (SSAA) and simple percussion. The exquisite and stirring voices of Amelia Jones (soprano), Heather Fletcher (mezzo soprano), Belinda Paterson (mezzo soprano), and Alexandra Amerides (contralto) beautifully bring this opera to life. Their heavenly tones accentuate the ethereal quality of the production and this is perfectly married to the natural settings that dominate the accompanying imagery. The performance of "As Love Grows Stronger" is particularly dramatic and draws attention to the depth and intensity of emotions that are being explored.
Love Fail is delightfully conceptualised and combines music, image and poetry on a variety of levels to produce a highly evocative and engaging performance.
Patricia Di Risio