Love Letters
By A. R. Gurney. Directed by Jane Sherwood. Camelot Theatre, Mosman Park, WA. July 10-12, 2020
In what may be the first live Community Theatre performance in Australia post-Covid 19, Harbour Theatre's Love Letters plays to a physically distanced audience this weekend. Due to the reduced audience capacity, I attended the final dress rehearsal with other reviewers and the Harbour Theatre committee.
This production was well suited to a physically restricted rehearsal period, with the two performers firmly in their own place on stage at all times. The simple set has been placed within the existing set of Breakfast at Tiffany's, which had its opening night in March before performances were stopped, and Love Letters employs the same lighting rig. Breakfast at Tiffany's will resume its run on July 31 - giving Harbour the first two WA productions to resume.
Love Letters is a bittersweet love story that stretches over many years, told through the correspondence of childhood friends Melissa Gardner and Andrew Makepeace Ladd III. Beginning with invitations to birthday parties and notes passed in class, their letters continue through boarding school and college, through time spent in service and when they marry other people, with over forty years of changing relationships, fate and fortune.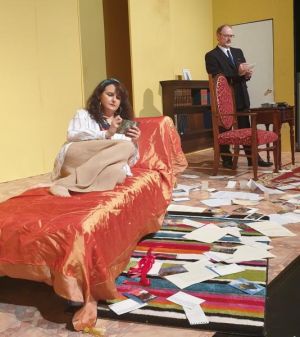 Often performed as a staged reading, Jane Sherwood's direction makes this incarnation a fully realised production, with simple but creative staging and blocking. The two performers, friends in real life, have a tangible connection which is felt even though the characters never interact directly or physically. Meredith Hunter is beautiful as the feisty, creative and passionate, but often fragile Melissa, while Jarrod Buttery brings vulnerability to the stalwart, reliable, duty-focused and often stuffy Andy. While they do not use the American accents we might expect, both are easy to listen to and have great style, giving their characters warmth and depth.
A perfect way to ease yourself back into theatre going, Love Letters - somewhat of a classic - is an easy to watch, gentle comedy, although I advise you to pack some tissues. Presented with pace and passion it is an enjoyable night out. Harbour Theatre are very mindful of keeping their audience safe and are well and truly adhering to Covid 19 guidelines and recommendations. At the time of writing, there were a few seats still available, so I advise those missing their theatre to move quickly to book a ticket.
Kimberley Shaw