The Love of the Nightingale
By Richard Mills. Libretto by Timberlake Wertenbaker. Opera Australia. Conductor: Richard Mills. Director: Tama Matheson. Set and Projection Designer: Dan Potra. Original Costume Designer: Kate Hawley. Lighting Designer: Nigel Levings. Opera Theatre, Sydney Opera House NSW. 21 October – 1 November 2011.
The Gods must be crazy!
First performed in Perth in 2007, this newish Australian opera opened in Sydney on October 21st 2011.
The synopsis by composer Richard Mills reads: The Love of the Nightingale is a myth about men and women, and explores the condition and experience of women in an oppressive patriarchy. Through a crucible of suffering the mythological moment of metamorphosis is achieved, and the play finds its moral resolution in the freedom of uninhibited inquiry. Not a lite night. But does Nightingale deliver on this promise?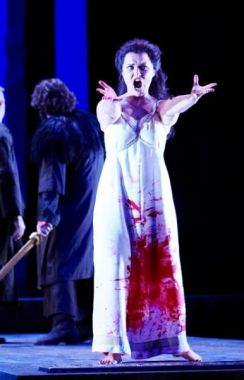 What happens is important to fulfilling this promise. Tereus, the King of Thrace, helps Pandion, the King of Athens to win a war. He is rewarded with the hand of Pandion's daughter, Procne. They return to Thrace, have a son, things don't go well. Tereus later returns to Athens to ask his wife's sister, Philomele, to join them in the north. Before they leave, Tereus manages to offend the god Aphrodite, who, instead of filling the king full of love for his wife, fills him with lust for her sister. In transit, Tereus violently rapes Philomele and cuts out her tongue. Things don't go at all well after that. The sisters get their revenge by murdering the king's son and heir. So both gods and mankind fail to meet a decent moral standard. In the finale, all are transformed into birds and live happily ever.
The libretto was originally written as a play and is based upon a classical tale by Ovid. The writer and composer then converted the text to lyrics and action. This may account for what felt like a significant defect in the opera, because it consists of a string of arias with no real connecting melodies or choral motifs. It is a play set to music, rather than a traditional opera. This may be adventurous, but over two and half hours it does become rather tedious.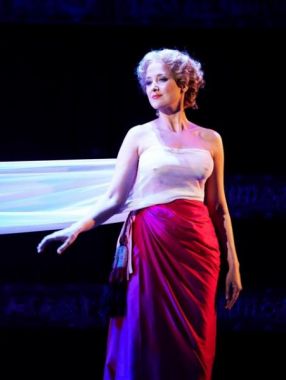 And it requires a suspension of belief to accept man's violence and dominance of women in this classical setting (where it was normal practice). So, lines in arias pleading for men to desist from violence against women in car parks do not resonate with the power intended.
The set, lighting, costumes, singing and acting are all excellent and do make this show a glorious night out. But this opera does not hold up well as a story reflecting the timeless oppression of one sex against another, nor is it musically rewarding, because of the lack of variety delivered in the composition.
Stephen Carnell
Images: Anke Hoppner as Procne and Emma Matthews as Philomele; Emma Matthews as Philomele and Taryn Fiebig as Aphrodite in Opera Australia's The Love of the Nightingale. Photographer: Keith Saunders.
To keep up with the latest news and reviews at Stage Whispers, click here to like us on Facebook, or follow us on Twitter.