The Love of the Nightingale
By Timberlake Wertenbaker. Produced & directed by Simran Giria. Theatre Works Glasshouse, St Kilda. 5 – 9 January 2021
Based on the Greek myth of Philomela, the abused and silenced princess who metamorphosed into a nightingale (according to Ovid), The Love of the Nightingale is Timberlake Wertenbaker's take on this eternal story. It has been adapted and referenced over and over, including by Shakespeare and Keats, and in our time by Margaret Atwood. Wertenbaker's version was first performed in 1988 and yet it is still 'relevant', it still reverberates, because it is about silence – the silence that precedes and allows abuse, and the silence that follows – from the victim and from the witnesses.
What is striking about Simran Giria's production, apart from her courageous choice of this difficult text with its long time span and changes of location, is, first, her bold casting. She shows an acute but sometimes forgotten awareness that an actor's appearance gives an immediate sense of character before a word is spoken. Gretel Sharp's Philomela and Monique Marani as her older sister Procne, both actresses giving detailed and very touching performances, draw us in from the start. We see their closeness, their affinity, their trust in each other, but also their difference. Gretel Sharp's Philomela is young, glowing, full of restless energy, naïve but intelligent, curious, and unconsciously sensual. These lovely qualities render her tragically if believably attractive to her sister's husband. Ms Sharp makes us love Philomela so that her eventual fate is all the more devastating. Monique Marani's Pocne, by contrast, has a quiet dignity tinged with sadness. Later, there is loneliness and frustration, and finally mad and murderous rage. For all their Athenian culture and intelligence, both princesses are essentially powerless.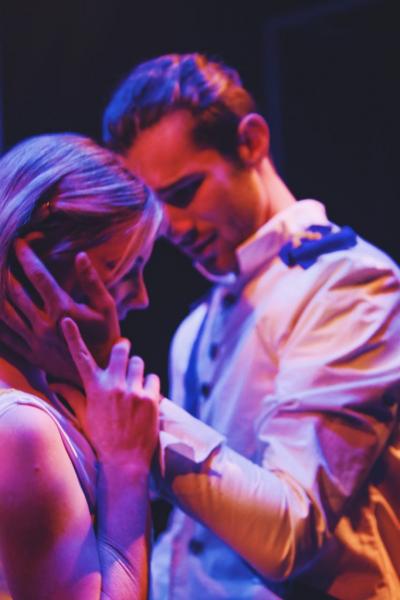 Nikoleta Alexiadou and Lucy Paterson, Pocne's attendants, are physically smaller than Ms Marani's Pocne, and are almost like stony-faced, menacing children. There is humour too in casting diminutive Amanda Dhammanarachchi and beanpole Lucas Rindt as sailors and, later, palace guards, working together. The scene where they climb on each other's shoulders to eavesdrop is beautifully done. The only disappointment is perhaps Emlyn Sugden's Tereus; Wertenbaker describes the character as 'a hollow man filled with violence' but Mr Sugden isn't yet suggesting much menace. When King Pandion (Tiernan Maclaren) gives away his daughter to this man, we should feel, I think, a frisson of dread.
Ms Giria's second great talent is allied to her casting, and that is her use of the stage to create images. The Theatre Works stage is totally bare, audience on all four sides, with the only set dressing a three-tiered platform. It can be a seat, a ship's deck, a lookout, a lonely palace interior, and the site of terrible crimes. Ms Giria's placing of her cast in this space and her use of stylised but immediately clear movement moves the story from the lively palace in Athens of King Pandion to the cold, impenetrable silence of Thrace, to a ship at sea, a barren island and landscape of flight.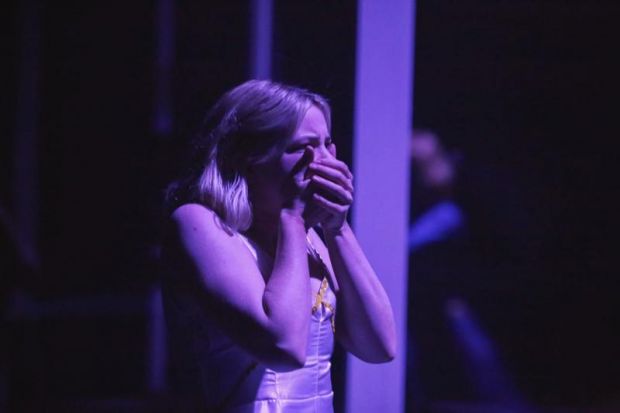 The undeniable visual qualities of this production almost carry the story, almost compensate for the fact that much (but not all) of the dialogue is inaudible, muted by the barrier of Theatre Works new Perspex booths for the audience. Some of the cast, most particularly Ms Sharp and Ms Marani, beat this problem by good old-fashioned projection and speaking clearly. Others lapse too readily into 'naturalism' – for instance, Elly D'Arcy who has authority and majesty as Aphrodite at the start, but her Niobe – a key character in her ambiguity and cynicism - disappointingly declines into inaudibility also.
The Love of the Nightingale is directed and played by people of great talent and is absolutely worth seeing - even if a little diminished by its sound and dialogue problems. It is clear-eyed, unsentimental but still moving, still managing to make an ancient myth decidedly of our time.
Michael Brindley
Photographer: Wing Sze Chong