Love's Labour's Lost
By William Shakespeare. Melbourne Shakespeare Company. Central Park, Malvern. March 2 – 17, 2019.
Love's Labour's Lost is another truly delightful production by the fabulously talented Melbourne Shakespeare Company, performing rain or shine in the lush garden surrounds of Central Park, Malvern.
Love's Labour's Lost is one of The Bard's early comedies, dealing with the politics of love. Set in Melbourne and driven by popular song, King Ferdinand (Tref Gare) and his two lords swear off the company of women for three years and plan to use their time diligently for the sole purpose of 'brain nourishment'. But the cross fire of love over-rules, when the Princess of Perth (Rebecca Morton) and her two ladies meddle with their fickle abstinence, creating hilarious amorous havoc within the entire court.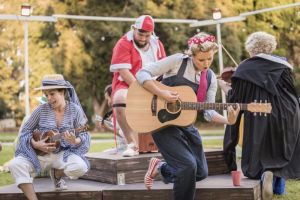 While the men foolishly blubber on with their erudite nonsense, the women confidently sway their love interests into romantic traps with disguise and wily performance. There are plays within plays and King Ferdinand performs his "You Sexy Thing" with lusty frustration. Lord Biron (Callum Mackay) is a fixture of romantic comical vexations, as hilarious as Dull (Gareth Isaac), the constable who rallies around everyone like a bumbling force of absurd reckoning. Holofernes (Jennifer Piper) loosely centers the entire show, while the madcap Spaniard Don Adriano (Alexander Lloyd) is positively frantic in the scene of Nine Worthies.
A fine cast of dedicated performers who all shine in their moments of fame and glory with attention to choreography (John Reed) and such admirable direction by Jennifer Sarah Dean. Melbourne Shakespeare Company have created yet another imaginative, wonderful and dynamic Shakespearean productions.
Flora Georgiou
Images: Burke Photography