Loving Repeating
Music by Stephen Flaherty. Words by Gertrude Stein. Adapted by Frank Galati. Directed by Jason Langley. Vic Theatre Company. Chapel off Chapel. January 21 - February 8, 2015.
Once in a rare while a show comes along that somehow transcends the sum of its parts and creates true magic on the stage. For 2015 (even this early in the year) that show is Loving Repeating, a boutique musical built on the writings of Gertrude Stein with a beautiful score by the award winning composer Stephen Flaherty, with Stein's writing adapted by original director Frank Galati, serving as lyrics and Galati creating the book. Though Stein was an Avant Garde and abstract writer, at the heart of everything is her love for her long time companion and "wifey" Alice B Toklas. We all know her line "A rose is a rose is a rose….", but Stein sought to find alternative ways to present language in a way to keep it fresh and romantic rather than us simply over familiarising what we have always known, and thus taking it for granted. In many ways she was, to writing, what Picasso was to painting, the first Cubist author (she coined the word "Gay" meaning homosexual….though the two seem not to have any linguistic correlation).
This may sound like a somewhat dry and intellectual basis for a musical, but nothing could be further from the truth. Jason Langley's exquisite vision, superb taste and quest for excellence have lovingly fashioned this pastiche…a series of vignettes, each with it's own style, time and place, like paintings from different eras, into a truly beautiful 80 minutes of poignant, sexy and often hilariously funny entertainment, that cannot fail to touch you.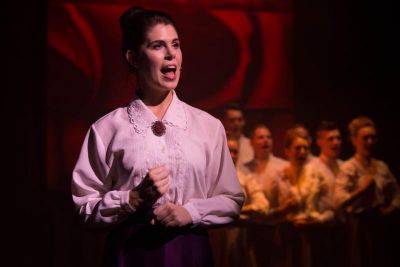 The cast are magnificent, and the vocal harmonising is always pitch perfect and stunning. It's rare to see so much outstanding talent in the one show. There isn't a weakness anywhere, and we can seldom say that. Langley's casting is perfect.
There aren't enough superlatives for Deirdre Rubenstein as Gertrude Stein. We mostly see Stein portrayed in old age as dry, intellectual, un-emotional – but Rubenstein gives us an eternal girl in an old woman's body, all passion and romanticism with a huge appetite for life – a woman perpetually in love with her partner, words, and living…and herself. She is remarkable and a joy to watch, especially her energy in the dance numbers, and her sense of intimacy when "lecturing" the audience. Nicole Malloy as Alice B Toklas shows why she is the doyen of independent musical theatre. She brings her fabulous voice and acting chops, with the guidance of Langley, to create a flesh and blood living, feeling, Alice from what is a sketchily written role always in the reflected light of Gertrude. It's a stunning and endearing performance…and it's lovely to see her sister Suzie heading the ensemble as the dance captain.
Langley uses three actresses to portray Gertrude at various times in her life – recognisable through hairstyle and a brooch they all wear. Caitlin Berry as young Gertrude is both beautiful and impressive with all the stage presence that WAAPA graduates always bring and she sings like an angel. Middle aged Gertrude, Jennifer Peers, is another WAAPA graduate, with a stunning soprano voice. Both do justice to representing the charismatic Rubinstein at earlier stages of Stein's life. In fact more than half the cast are WAAPA graduates, proving once again how brilliantly they train our future stars of musical theatre. Emily Paddon –Brown (Helen Furr) and Sage Douglas (Georgina Skeene) both create perfect cameos in their one major scene and provide valuable ensemble skills elsewhere, and Gillian Cosgriff is a delightfully naïve young Alice. All of the male cast are superb in their vocal and dancing skills with special mention of the very impressive Vincent Hooper (John) whose voice just soars, and young Mitch Ralston who only recently was playing Li'l Abner in his graduation production.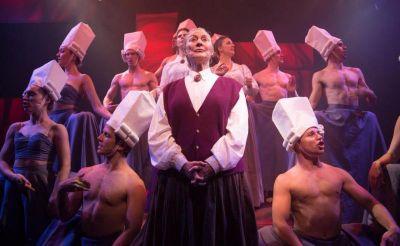 Michael Ralph's choreography is stunning and is danced beautifully with sharp precision. There's a LOT of dancing, and all of it is of the highest quality and in keeping with the overall excellence of the show. Ben Kiley leads a tight and super efficient band with great élan. Nathan Weyers set and Daniel Harvey's costumes are quite astounding on a small budget; and Travis McFarlane's lighting and Macello Lo Ricco's sound are of the same excellent standard as all other elements.
This is a production created with love, integrity and the desire for excellence. It excels in all departments, and sets the bar exceptionally high. First time producer Glenn Ferguson can be justifiably proud and I can't wait to see his next offering. Meanwhile, a thousand bouquets of roses to Langley and his cast for this delectable offering. It is the first time I have ever seen an audience paying out money en masse for programmes AFTER the show, so impressed were they. And thanks to Chapel off Chapel for bringing this jewel to us.
Coral Drouyn
Photographer: James Terry Photography.