Lucia di Lammermoor
Composer: Gaetano Donizetti. Librettist: Salvadore CammaranoVictorian Opera. Director: Cameron Menzies. Musical Director: Richard Mills. Her Majesty's Theatre, Melbourne. April 12 – 21, 2016
Jessica Pratt has sung Lucia in some of the biggest opera houses in the world. Melbourne audiences were luckier than that. They got to hear her in the intimate Her Majesty's theatre where she rarely needed to open up that magnificent instrument and so was able to give a much subtler, nuanced performance. Her pianissimo singing was particularly beautiful, and made her a more vulnerable Lucia than one would find in a bigger theatre.
In a similar league was baritone Jose Carbo as her brother Enrico, whose rich baritone was a delight. Their duet in the third scene was singing at its best.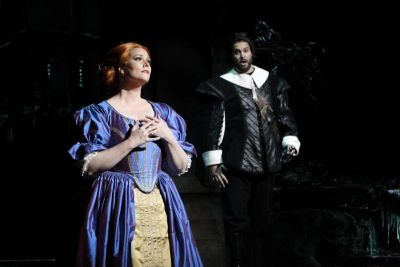 Up and coming tenor Carlos Barcenos showed he deserved to be in their company with a polished performance as Edgardo. His voice was unfailingly beautiful, and he came into his own in the final scene, which included some fearless top notes not usually included.
Jud Arthur was a sympathetic Raimondo, though he struggled with some top notes. Michael Lampina, Shakira Tsindos and Michael Petruccelli distinguished themselves in smaller roles.
The sets were impressive. There were two large columns which appeared in different places in most scenes. It was all very realistic, and enhanced by the lighting. The costumes were magnificent.
Melbourne's opera loving public are spoilt for choice at the moment, but this would need to be on the top of their list.
Graham Ford
Images: Jessica Pratt, & (l-r) Jessica Pratt and Carlos E. Bárcenas. Photographer; Jeff Busby.