The Lyin' Queen
Directed and Conceived by Trevor Ashley. Written by Phil Scott and Trevor Ashley. Playhouse, Sydney Opera House. November 26 - December 1, 2019
The drag artist and musical theatre performer Trevor Ashley has produced and starred in a number of hilarious cabaret and theatre shows, such as Liza (on a E), Little Orphan trAshley, Fat Swan and The BodyBag. As those names indicate, his humour is naughty, often dirty, but the jokes squarely hit their mark. His new show The Lyin' Queen is a less obvious pitch - setting its sights on a broad number of targets - but ranks among his best.
He's collaborated again with Phil Scott of The Wharf Revue fame. And this is funnier (though its humour is more obvious) than that annual Sydney Theatre Company show. Theirs is a winning team, writing with spark and making huge, hysterical fun of celebrities, politicians and Australian TV shows, sometimes quite controversially. Some jokes are below the belt but it's rare to laugh so much in an Australian theatre (though it must be pointed out this "adults only" show is not for the faint-hearted, with plenty of sex and smut).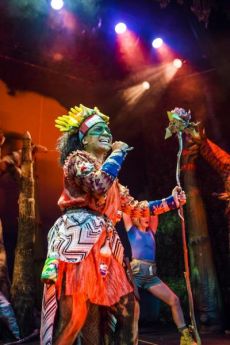 The plot of The Lyin' Queen is not what we're here for - the story of Queensland opening its own version of Jurassic Park is simply a vehicle for the gags. The show makes fun of both the movie and the potential theme park, as well as the likes of King Kong and The Lion King. And the many laughs also come at the expense of everyone from Scott Morrison and Steve Irwin to Greta Thunberg and Jeffrey Epstein.
Scott stars as eccentric billionaire Dr. Richard Rabbitborough, alongside Ashley as the famous actress Gaye Wray ("from Home and Away"), who's recruited to sell his new theme park. They're performances are just as entertaining as their writing, not just in their delivery of the punch-lines but also in the singing of some very witty numbers. The ensemble is fantastic too. Shannon Dooley, who wowed in American Psycho at Hayes Theatre, is wonderful to watch, bringing lots of zing to a role that could have been a lot less funny. Brendan Irving plays the hunk but he also manages to prove the talent behind the body, showing off some amazing aerial skills. Elenoa Rokobaro brings powerful vocals to a number of roles, including a riotous refugee. Everyone is great.
The Lyin' Queen would be too racey for some but if you like a good laugh - or rather a couple of hundred of them - this is a great night out. It's heading to the Darlinghurst Theatre after a short run at the Sydney Opera House and most likely other cities too. Catch it if you can.
Peter Gotting
Photographer: John McRae