Lyrical Reflections
Southern Cross Soloists. Violin: Amalia Hall. Concert Hall, QPAC. 3 November, 2019.
Tim Hall's "Cry Stone Walls" of the Yorkshire dales is a perfect image to adorn the cover of Southern Cross Soloists final program for the year, Lyrical Reflections, featuring as it does two iconic works from English composers Elgar and Vaughn Williams.
The Lark Ascending is probably Ralph Vaughan Williams' most popular work, written just before he joined the Royal Army Medical Corps in 1914 and the version for solo violin and orchestra was first performed in 1921. I doubt there's ever been a piece of music so expressive of the English countryside.
Guest violinist Amelia Hall brilliantly captured the flight of the lark, from the opening cadenzas to the finale, in warm but bright tones. It was joyous - her command of her instrument exemplary with rich tones and a shimmering beauty.
The concert opened with Bach's Concerto for Oboe and Violin in C minor, BWV 1060R, again a perfect piece to register some virtuosic performances. The original manuscript has long since been lost but the work exists today because Bach arranged it for two harpsichords and orchestra in 1736.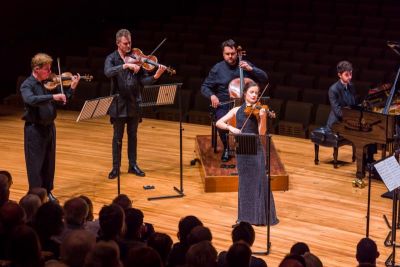 Alex Raineri managed a more than acceptable Baroque style on the harpsichord, Hall's violin work was impressive, but it was Tania Frazer's oboe that provided the magic. Her bird-like trills were sensitive and emotional, whilst her dance with the violin in the second movement was poignant.
The concert ended with Elgar's superb Enigma Variations, which was by turns bombastic, quirky and elegant. Again Frazer's oboe was radiant, especially in Ysobel.
In between, we had Max Richter's dramatic November, which reflected on the aftermath of the Kosovo conflicts in the Balkans with its brilliant Vivaldi-like arpeggiated lines,Ross Edwards' Nura, a two-musician work for flute and piano which allowed flautist Jonathan Henderson to capture the early morning sounds of the Blue Mountains with exquisite control, and a specially commissioned piece by local composer Gerard Brophy …between two silences… which arrestingly included an exotic amble through a Isfahan bazaar at dusk and, although it was short, one of the highlights of the concert.
Next year Southern Cross Soloists will have been giving distinctive chamber music recitals for 25 years. It's an impressive milestone in Australian music circles and one to be roundly celebrated. Let's start popping the champagne now! The 2020 season includes The Trumpet Unleased (February), In the Footsteps of Giants (July), and Souvenirs de Aranjuez (October).
Peter Pinne
Photographer: Darren Thomas