m
By William Shakespeare. Eagle's Nest Theatre. Director: Colin Craig. Broken Mirror Studios, Brunswick. August 11 – 28, 2011
Ghosts in hoodies; an assassin in a white t-shirt and beanie; and a chorus of vampish women who would not look out of place in a 60s horror movie are all part of a modern take on Macbeth by Eagle's Nest Theatre.
'm' is a refreshing version of this most bloody of Shakespeare's plays, one that manages to be playful and fun whilst also capturing the horror.
The story is a short, sharp one: Macbeth and friend Banquo are generals for King Duncan of Scotland returning from battle, when they meet three witches who give them a prophesy: Macbeth will get a promotion and then become King. When the first part of the prophesy comes true, Macbeth, goaded by his even more ambitious wife Lady Macbeth, hurries things up by killing Duncan, and taking his crown. Macbeth has to keep killing and killing to hold his position.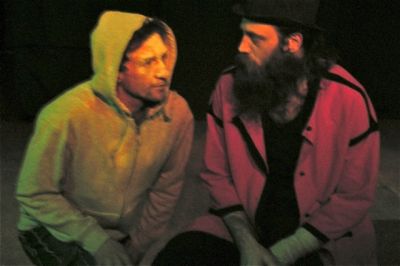 In 'm', the famous scenes, including Macbeth's 'dagger' soliloquy and Lady Macbeth's 'out, damned spot' speech are there, but the action has been condensed and quite a few characters cut. The play was a little slow to take off. The entire cast is on stage at the start, and began a battle that drowned out an opening monologue by Malcolm (the King's son, played by Juliet Hindmarsh). It took a few more scenes before I got the gist of the story, and who was playing who.
The play came alive with the appearance of Kristina Benton, who plays Lady Macbeth. Benton is strong and confident in this very important role, portraying a woman who convinces herself murder is a business like any other, like taking out the rubbish. James Adler cuts a striking figure as a tall, bearded Macbeth. His performance has a measured, quiet intensity that can bring out the disturbing aspects of Macbeth's behaviour. Another standout is Phil Zachariah, who first plays the unfortunate King Duncan, and then steps in as the sozzled Porter. Patrick Tucker is also great as an assassin who is murdering one minute, sweeping the stage floor the next. The three witches are played with vampish glamour by Tegan Larin, Portia Chiminello and Brooke Hampton.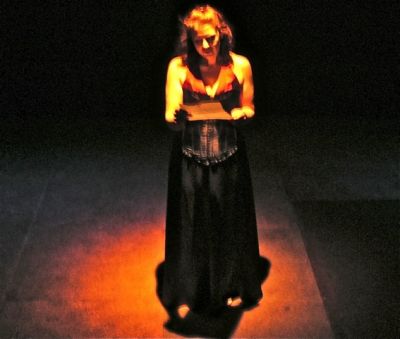 What is most impressive about this play is Colin Craig's imaginative direction. His cast of 10 do more than act and tell a story: they shift scenery, manipulate lighting, perform the soundtrack, and in one particularly eerie scene, apply the stage make up, all within sight of the audience. That these technical tricks heighten, rather than diminish, the drama is a great testament to Craig's vision. There are plenty of surprises and tricks in store for the audience. Black curtains are swept open on either side of the stage to reveal macabre sideshows in the wings. We see a small drop of blood on Macbeth's finger after one of his murders; an assassin's gloved hand reaches out and touches his victim's forehead before a black curtain slips into place. The witches also have an interesting role, but it would be giving too much away to say more.
Admittedly, 'm' does suffer from uneven acting. Some performers sounded quite flat, while others pushed too hard for a big dramatic 'moment'. It's understandable in a cast of both very new and seasoned actors, but it does affect the play's power. The stronger performers kept stepping in to get the story back on track. The audience participation, though fun, was awkward at times, mostly because some audience members looked uncomfortable in the spotlight.
Still, the imagination and care behind 'm' can't be denied. It's a promising Melbourne debut for director Colin Craig.
Sara Bannister
To keep up with the latest news and reviews at Stage Whispers, click here to like us on Facebook, or follow us on Twitter.