Madame: The Story of Joseph Farrugia
A Torque Show production, presented by Vitalstatistix in association with State Theatre Company SA. Burnside Ballroom. April 21-May 2, 2015
Torque Show's Australian premiere of Madame: The Story of Joseph Farrugia is fast-paced, frank, funny, often poignant and ultimately liberating theatre. It is also unlike anything I've seen before.
The culmination of a long-term project for Torque Show in collaboration with Emma Webb of Vitalstatistix Theatre Company, together with State Theatre Company SA, Madame is created/directed by Ross Ganf, Ingrid Weisfelt and Vincent Crowley.
The production is only just over seventy minutes in duration but it nevertheless leaves a lasting impression as it portrays in stark relief the extraordinary double life of well-known Adelaide adult entertainer Joseph Farrugia.
Beginning with Farrugia's childhood in Adelaide as an Egyptian refugee, Madame is the intimate and true tale of the life, loves and family issues of a man driven to be a performer from an early age. Madame allows us to see behind the scenes of Joseph's business, the Crazy Horse Revue/Madame Josephine's strip club. We discover his conflicted feelings about the vulnerable girls who work for him; his 'bees'. The 'battering' of Joseph's body as it is changed by female hormones is graphically told, but the adult rating of the show clicks up several notches when we learn about the escalating expectations of his horny patrons over the years.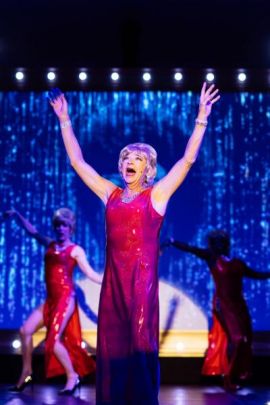 Throughout all this, as his business inevitably moves from burlesque and vaudeville to nude competitions, table dancing and harder-core adult entertainment, the dominant part of Joseph's personality reigns supreme: his alter-ego, the one really in charge of the show-Madame Josephine herself.
Through the inspired use of three performers playing differing aspects of one man's personality, Madame becomes intensely personal and powerful. The soul-baring is made even more real because the dialogue in this production comes entirely from Joseph Farrugia's own words, gleaned through interviews with Torque Show's Ross Ganf.
Somehow, the mix of narration, video, dance and drag show works brilliantly. This is partly because Madame is anchored by Trevor Stuart's towering performance as the older Joseph, the one who narrates the past, reflects on love and rejection and is the businessman. Tough resilience, sad vulnerability and stoic acceptance is revealed in this Joseph.
Chris Scherer is mesmerising as the young Joseph and owns the stage whenever he is present. He gives an intensely physical performance, his perfect comic timing bringing out the funny, sweet side of the man. But Scherer instils mystery too, reminding me a little of Joel Grey in Cabaret. A memorable and even slightly unsettling performance.
Madame Josephine, the larger-than-life 'other self' of Joseph Farrugia, is played by a woman in this production. This at first seems odd but doesn't particularly detract from the show because Kialea-Nadine Williams throws her heart and soul, plenty of high kicks and some terrific dancing into the role. This is an exuberant performance and considering the graphic nature of some of Williams' dialogue, a brave one as well.
The Burnside Ballroom can be a problematic venue in terms of sight lines and sound, but this is easily overlooked for this production because the room lends itself to being decked out in cabaret-style seating, glittery drapes from the balconies and a cat-walk; just as if it was Madame Josephine's venue from the old days. Perfect.
To the mimed strains of My Way the three sides of a complex man join together in the climax of the show. But there is a final surprise.
Madame is a beguiling contradiction. It's ground-breaking yet simple, it's documentary mixed with dance, it is memorable theatre, it's…difficult to describe…just go see it.
Lesley Reed