Madiba the Musical
By Jean-Pierre Hadida. The Comedy Theatre Melbourne (and touring Australia and NZ). 3-28 October, 2018.
It is difficult to know where to start even when only writing a review of this momentous show. French author and composer Jean-Pierre Hadida has taken on the monumental task of telling the story of Nelson Mandela's life in a musical. Producer Neil Croker has brought the first English language version to lucky audiences in Australia. It has kept the same title as the French version – Madiba – the name of Mandela's clan.
Any doubts I had about this show were dispelled the more I learnt about it. A few weeks before opening night, Hadida, Croker and star of the show Perci Moeketsi who plays Nelson Mandela, did a Q&A session at the Alliance Francaise in St Kilda. Hailing from a township in South Africa, Moeketsi said playing Mandela is a childhood dream come true. His own story is quite inspirational. It took him many years to realise his dream of studying and performing in musical theatre. Now in his early 30s, he beat auditionees from around the globe to land this role of a lifetime.
It was particularly poignant to hear Moeketsi talk about what Mandela and the show meant to him. Pride in presenting this inspirational tale shone through in the entire cast, none more so than Moeketsi. He said the key characteristic he wanted to portray in Mandela was his humour. He can quote Mandela to show his belief that humour and making people relaxed was the best way to get them to think properly and make good decisions. Moeketsi rises to the challenge of portraying his hero, bringing deep reverence and ample talent to the title role. His solo in "To Live In Peace" was one of the most moving songs of the show. While relishing the opportunity to play the role in Australia, he said he cannot wait to tell it at home in South Africa!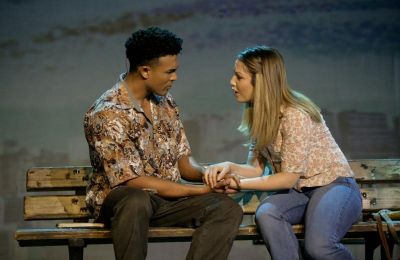 Amazingly, the entire show has many funny moments, while paying due respect to Mandela's extraordinary life and achievements. Indeed, this was a man who spent 27 years, almost a third of his life, in prison. He then became the first democratically elected President of the same country that imprisoned him, only four years after his release. Through all that, he could still bring humour to the most serious situations.
The show is given structure by a narrator, played by David Denis. At first, I wondered why the show did not feature the Nelson Mandela character more, but as it progressed it became clear it was actually about the impact Mandela had on peoples' lives more than his life itself. The fact the Mandela character was not centre stage throughout the entire show made it all the more powerful when he finally sang solo in the final numbers. Australian director Dennis Watkins managed to give the narrator even more meaning with a touching twist at the end of the show. Denis played the role with humour and flare, wooing the audience into stunned silence then laughter at just the right moments.
The rest of the cast is teaming with young Aussie talent. Every cast member gave their heart and soul to their performance. Ruva Ngwenya aptly captured the powerful spirit of Winnie Mandela, a hero of the anti-apartheid movement in her own right. Her performance of "Fighting For Our Rights" was unforgettable. Many of the minor characters are fictional but represent the experiences of many South Africans during Mandela's life. Tim 'Timomatic' Omaji and Tarisai Vushe played African couple Sam and Sandy, who were inspired by Mandela to become activists themselves. Barry Conrad and Madeline Perrone as Will and Helena gave the show a romantic sub-plot, playing an inter-racial couple. Their chemistry was authentic and may have been inspired by Conrad's real-life parents, who are a mixed-raced South African couple.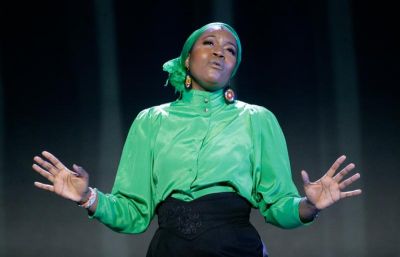 Stylistically the show has maintained its French bent. There are no pyrotechnics, flashy sets or spirit fingers to be seen. Its clever simplicity allows the talent and emotions of the cast to shine through. The costumes and set are simple but effective. A large screen creates Mandela's prison cell and displays key dates in his story. It is the best use of a digital screen I've seen in a musical to date. Rather than looking fake and out-of-place in a live production, it enhances the story-telling without overpowering the performers.
A three-piece band brought the brilliant score to life. This show has everything from rap (although stylistically much more musical and rhythmic than mainstream rap), reggae, traditional African and a little Broadway for good measure. A highlight was the Gumboot Dance, a style developed by South African workers, where dancers use gumboots to create rhythm as they move. The final songs of the show reach fever pitch, culminating in one last rendition of Freedom that will stay with you long after the curtain falls. Johan Nus' choreography, while nothing particularly original, enhanced the show and was well executed by the cast.
Australian director Dennis Watkins rose to the challenge of adapting the show to suit Australian, rather than French-speaking, audiences. He said the Australian version is much more chronological in structure and focuses on narrative flow. He had to change the order of most of the songs. It works well however the placement of the gumboot dance was a little awkward, with many cast members in gumboots during the scene were Mandela is set free from prison. Perhaps that was intentional for the symbolism of who he, and his freedom, represented?
For Australian theatre, I hope this marks a new era of unique productions being shown here. There is much talk about the need for more original Australian works to be produced, and adaptions of shows from places other than the United States and United Kingdom would be a welcome addition too. Perhaps this is another jewel that could help Australia become an international performing arts destination like London and New York.
Globally, this show will keep Mandela's story alive and bring it to future generations who are not old enough to remember him. Such a significant life can be presented in many ways. Musicals have the advantage of combining multiple art forms – acting, msuic and dance – to portray the impact one life can have on so many others. The creators and cast have made a valuable contribution to honouring Mandela through art. It is a brilliant musical about a brilliant man. This is a show that even non-musical lovers will relish, that will spark fire in the darkest of hearts and inspire all who see it. I never say this, but this show must not be missed!
Sophia Dickinson