The Magic Flute
By Wolfgang Amadeus Mozart. Operatu (SA). SA State Opera Studio. Adapted and di-rected by Cheryl Pickering. Designer: Bec Francis. Creative Producer: Pat Rix. 22 September - 2 October, 2011
Mozart's The Magic Flute has always been a hit with children. This production increases that appeal through the involvement of cirkidz and Tutti.
In the original story, Tamino (Robert Macfarlane) gets inducted into Zarasta's Temple to rescue Pamina (Naomi Hede), whom he has fallen in love with.
Here, the Temple is replaced with a circus, giving the cirkidz youngsters the chance to astonish the audience as they perform backflips, human pyramids, walking on balls, leaping over each other – with many of these impressing because it seems unlikely children have the strength needed for the performances.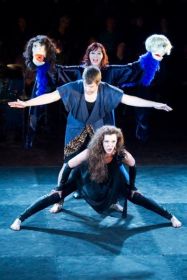 Other than that change and its implications, the story sticks close to the original.
While the kids bring the circus element to the show, the Tutti actors bring the magic. Tutti is an ensemble for performers with disabilities. Each of these performers have different capacities and each is used to their fullest potential.
The staging is particularly interesting. The stage is surrounded by stadium seating on four sides, and seated in the back section is the Tutti choir. Between the seating are the entrances to the stage – more than once, performers enter the stage from four directions, providing a visual assault of color.
This is an opera to bring your kids to. It's "highly fanciful and deeply collaborative" and it works.
Daniel G Taylor
Images: Photografeo
To keep up with the latest news and reviews at Stage Whispers, click here to like us on Facebook, or follow us on Twitter.