The Magic Hour
By Vanessa Bates. Queensland Theatre Company. The Bille Brown Studio, 20 – 31 May 2014; The Street Theatre, Canberra, July 4 - 6, and touring.
Six fairy tales are transplanted into modern Australia, reimagined from the points of view of female bit parts, Rosencranz and Gildenstern are Dead style, who are bad, ugly, or overlooked in the originals. Fairy tales make wonderful fodder for exploration of assumptions built in to cultures – you can tell a lot from who is baddy, who is the goody, whose story is told and who is left behind. There's that mix of magic, morality tale and the grotesque, reawakening images and fears from childhood. Vanessa Bates' wonderful rework challenges the assumptions and cultural values embedded in these tales.
Named for that gorgeous time at the end of day, the Magic Hour has a compassionate warmth for its underbelly of characters. People will recognise Ursula Yovich from The Gods of Wheat Street, but she displays more of her talents here. This was a gentle, generous performance, captivating throughout, drawing you in to these stories of sexy, single grandmothers, old ladies, spinsters, junkies and troubled teens. Yovich is a gifted storyteller and comic, with a rich cabaret voice she gets to show off in a song at the end of each tale. Each of the troubled lives is played with great empathy, leaving the audience hoping that they will somehow find a happily ever after, but knowing they probably won't.
The set was an inspired creation in itself– a gypsy-esque wooden caravan in distressed pastel shades, with opening hatches so that props could appear out of nowhere, strings of light and a washing line where the costumes for each change were hung. At various times the caravan was transformed into a house, a high rise apartment, a disco or a bar. Subdued lighting capped off the mood.
By the end of the show, you might feel dragged into the gutter, but you'll probably leave with a smile. A magical experience, well deserving of the standing ovation it was given.This one-woman show is big kids' bedtime stories – there are several adult moments.
Cathy Bannister
Jay McKee previously reviewed The Magic Hour during its Brisbane season.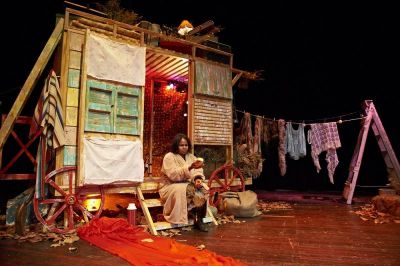 The joy of the piece is Ursula Yovich's storytelling art; a dynamic little actress with a capacity for drawing everyone into her circle with warmth of personality and eye contact.
Sitting on the steps of her edge-of-town shanty, she offers neighbourly greetings to people as they arrive, with occasional breaks to check on the progress of soup she is cooking on a small gas camping stove 'out in the yard'.
All of Yovich's stories have familiar nursery story plots but now they are clad in modern situations, always from the point of view of a woman narrator e.g. grandmother of the Red Riding Hood young girl; the younger ugly sister in the Cinderella scenario; the single mother from a happy stable marriage who is dependent on her good son, Jack, after her husband died … and so on.
Yovich is playing the Vanessa Bates script, but in such a relaxed and informal way the stories sound impromptu.
Credit to director of the original Deckchair Theatre, Fremantle (disbanded in October 2012) production. He travelled across for the qtc première. Alicia Clements' ingenious set and costume designs contributed to the smooth transition between stories; and Joe Lui's sound design enveloped us in the stories' locale. He also wrote the songs Yovich sings as part of the show.
Jay McKee
Photographer: Jon Green.