Magic Mike Live
The Arcadia, the showring, Entertainment Quarter, Moore Park. Sydney season resumed January 2021. Melbourne from June 2021
Welcome to the latest raunchy male show made for hen nights.
So move over those old Chippendales. Touring Australia in its own Spiegeltent, Magic Mike Live sports 16 gym perfect American boys speeding through a kaleidoscope of dance styles, but all hip thrusting and humping, an endless sea of swivel snake spines and floor-nicating. And coaxed by our girl-next-door MC Amy Ingham, still the hens cry for more.
Interestingly, before Amy's takeover, a male compere kicks off with language of wide-ons and sticky wet seats which made even me blush. (Porn after all is now a global mainstream language).
There's a story of sorts, as Amy coaches cutie Mike (Blake Varga) on how to satisfy her more than just with his tongue. He's an eager learner, super dancer and belts out one of the few songs. The rest is pounding dance routines - blues, jazz, Latin, disco and rap – by an authentic ethnically varied cast.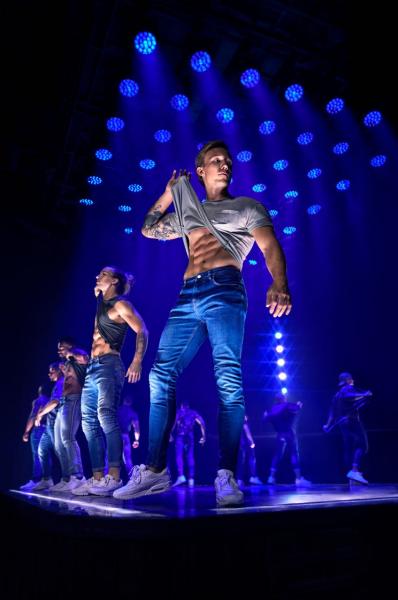 The boys swing through the sky, hoover up the tent poles and gyrate through cabaret tables and from podiums around us. Top aerialist Ned Zaina excels as he rises and plunges over one of the two women in the cast. And the suspended water table is very hot with Blake Varga and nymphette Max Francisco stripped near naked, awash in simulated hyper-sex. Women in the audience are also happily coaxed on stage to be enwrapped by these pulsating love machines.
Yes it's repetitive choreography and (for me) only slowly builds real excitement, but the super agility, spunk and energy of a generous cast carries it for two hours, and the production values, the incandescent lighting and costuming – before each inevitable strip down – is awesome.
Sometime teenage stripper Channing Tatum is the leading producer; fashioned from the earlier Magic Mike film, he developed this stage show four years ago. Starting, of course, in Las Vegas!
Martin Portus
Photographer: Peter Brew-Bevan