The Magistrate
By Arthur Wing Pinero. National Theatre Live. Rosebud and other cinemas nationally. Encore performances week of Feb 4th, 2013.
Seated in the comfortable Cinema 4 at Rosebud on a Sunday afternoon with fellow theatre lovers, it's easy to believe that you're actually in the audience at the National's famed Olivier watching a superb cast bring to life Pinero's 1865 play The Magistrate.
Pinero's play is more comedy of manners than Feydeau farce, and he doesn't have the biting wit of Oscar Wilde, but The Magistrate is still a joyful romp and well worth seeing for the performances alone.
Basically, Poskett (John Lithgow), a kindly magistrate, has recently married Agatha (Nancy Carroll) a widow with a teenage son. But since she has lopped 5 years off her age – to be an unlikely 31 – she subsequently has to chop 5 years off her son's age to match, claiming the 19 year old is only 14. Chaos ensues. The plot doesn't make a lot of sense, but it does provide lots of chuckles and a few outright belly laughs.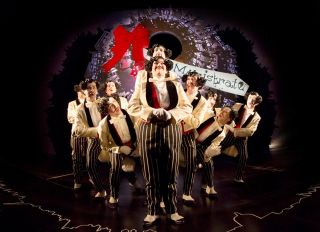 As the National's Christmas offering, the set looks like a gorgeous Christmas wreath adorning the huge thrust stage. Katrina Lindsay's clever design has it opening like a horizontal pop-up book to reveal the sets inside. It's all stylised but beautiful. The set changes are covered by Gilbert and Sullivan type songs written by the Richards, Stilgoe and Sisson, and sung by a white faced Dandy ensemble which has a particular point of interest for Australian audiences. For there, lamenting about women having only one mystery (their age) is Tamsin Carroll, star of the musical Dusty, and daughter of Peter Carroll whom I reviewed only the night before in Chitty Chitty Bang Bang. Theatre is a small, but international, world.
Director Timothy Sheader has elicited stellar performances from his cast, and it's the diminutive Josh Maguire as Cis – the 14/19 year old son – who sets the tone for the evening. He is deliciously pubescent, a baby faced letch who lusts after the music teacher and teaches his stepfather to gamble whilst primping, preening, posing, drinking the port and smoking cigarettes (thankfully, not all at once).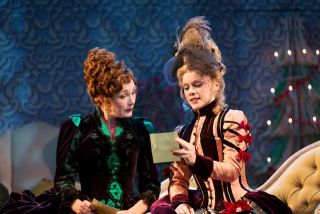 As Agatha, his mother, entrapped by her thoughtless lie, Nancy Carroll (no relative to Tamsin) is marvellous, as she teeters between loving partner and Desperate Housewife. It's a delicious performance. Jonathan Coy, as Colonel Lukyn, the one man who can destroy Agatha's secret, is wonderfully proper and superciliously British in a stylised performance especially suite to the 19th Century.
Christina Cole (Agatha's sister Charlotte) and Nicholas Burns (her estranged fiancé Captain Vale) are both delightful in underwritten roles; and Roger Sloman gives a perfect cameo (all eyebrows and nuances) as Mr Wormington, chief clerk at the Magistrate's Court.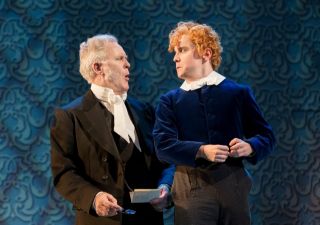 But it's John Lithgow we've come to see, and he doesn't disappoint. A distinguished actor who is equally comfortable inside the skin of a psychotic murderer or a hapless alien, he makes Poskett a very human magistrate, a man often too compassionate for his own good. The real guffaws of laughter come in the second act when Poskett tells of his night running from the police, a fugitive in parts of London he has never frequented before. Lithgow pulls out all the stops and manages to marry seamlessly, subtlety and finesse with some mugging and outrageous physical comedy. It's a fine tightrope to walk, and one on which a lesser actor would surely lose his footing. But Lithgow knows his craft, and his audience, so well that he never puts a foot wrong. It's a bravura performance and one you shouldn't miss. Check your papers for cinemas and sessions.
Coral Drouyn
Images: Aeneas Posket (John Lithgow)'; The Company; Agatha Posket (Nancy Carroll) and Charlotte Verrinder (Christina Cole), & Aeneas Posket (John Lithgow) and Cis Farringdon (Joshua McGuire). Photos by Johan Persson