The Magnolia Tree
The Wolves Theatre Company and Regional Arts Victoria present The Magnolia Tree. A play written and directed by Michael Gray Griffith. Opening night Altona Theatre, Melbourne. May 13, 2021 followed by Regional Tour.
Playwright. director and co-founder of The Wolves Theatre Company Michael Gray Griffith presents 70 minutes of mesmerizing, thought provoking and often times nail-biting theatre.
As children, three siblings would probe the branches of their mother's favourite magnolia tree for the evasive singing cicadas. Now as adults they share relatively little in common. Tonight they hold an urgent meeting to discuss nursing home options for their elderly mother, who has suffered the debilitating disease of Alzheimer's for 11 years. Vicky (Tottie Goldsmith), the mother's fulltime care giver, has given up any hope of a life for herself for so long. After discussing the huge expense involved to find good quality care, which will inevitably decimate any remaining money to be left to them after their mother's death, Jack has another more ominous idea. Jack (Ezra Bix), the so-called favorite child, a real estate agent (who could sell ice to the eskimos) uses a more sinister sales pitch to convince his sisters to collectively agree to 'let the mother go'. He feels it would be the loving thing to do for all their sakes. Deb (Rohana Hayes), the younger sister who looks at life through rose coloured glasses, wants the best for her sons, and feels that they deserve a worthy inheritance. Jack encourages her to think 'not as a daughter tonight but as a mother'. Could ending their mother's life be the answer to all their problems?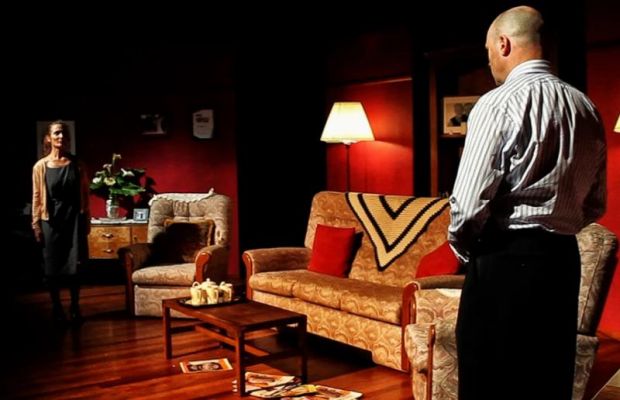 Tottie Goldsmith, in her debut performance, delivers a sincere and lifelike portrayal as the self-less but disheartened older sister Vicky. By the end of the play you really feel commiseration for the ordeal she has been put through. Rohana Hayes, as the wide eyed younger sister Deb, is both constrained at first and then when her character is provoked acts with equal vehemence. A couple of times the look in her eyes sent shivers down my spine. Ezra Bix brings high energy and polish to the role of the foreboding brother Jack. It was hard to take your eyes off his intense performance.
After losing my father last year, and now contemplating the future of my frail mother, this powerful play really struck a chord with me. I noticed many in the audience who were equally moved, some even to tears lasting well after lights up. To be or not to be? To exist in a nursing home or to be 'let go'? That is the moral question facing the trio and ultimately the audience, who get to decide the ending of each performance. Even after the vote the audience were rivetted waiting to see how the final moments would play out. I couldn't help thinking of similarities between an Agatha Christie play where the secrecy of the ending has been crucial to its success. And like The Mousetrap I'm sure that audiences will continue to treasure Michael Gray Griffith's The Magnolia Tree for years to come.
Jonathan Cox