The Maids
By Jean Genet. Q Theatre, Penrith (NSW) – July 16 to 30, 2011. Regional NSW Tour Aug 1 – 6.
French playwright Jean Genet's early life was miserable. Abandoned by parents, rejected by foster parents, he became a run-away who spent his teen years in and out of gaol for stealing and male prostitution. Disillusion and oppression fill his works. They are more existentialist than Absurd, filled with ritual, illusion and identity change, and little lightness.
The Maids, his second play, is typical. Even this translation by Bernard Frechtman, is long, word heavy and depressing. Based on the story of two French maids who murdered their employer and her daughter in 1933, the play has 'the maids'acting out the ritual killing of their mistress, 'Madame'. They abuse each other as both servant and employer, showing their hatred of her, each other and the oppression of class.
The only thing that lightens this production is the set by Melbourne indigenous artist Brook Andrew. Black and white dominate – symbolically one assumes – in geometric designs on the floor repeated in the costumes of the Maids, Solange (Kylie Coolwell) and Claire (Sharni McDermott) and the stripes of the curtains that circle the stage at the beginning. A modern black leather chaise longue and shiny black table, phone, lamp and tea service are the only props – and a pair of white gloves, symbolic as Solange will wear them to strangle Madame, but a nuisance to her – and the audience – as they won't stay tucked in her belt! The sole contrast to this is a red velvet gown that awaits Madame.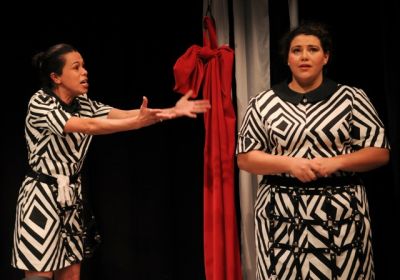 For 90 minutes the Maids carry out their depressing pretence in a roundabout of shouted abuse, ritualistic movement and oppressive despair. They will never achieve their aim, just as they will never rise above their station. It is a shame that they are directed to be so loud and to move about so relentlessly. There are no real moments when the audience has a chance to feel any compassion for them.
Relief comes with the arrival of Madame for a scene in the middle of the play. Sweeping in dressed in a black leather gown and cape, Elaine Crombie dominates this scene with strength and vibrancy. Unfortunately, not for long enough. She evades the 'poisoned chalice' and leaves the Maids to another scene of destructive, lonely, self loathing.
Coolwell and McDermott work hard in this unrelenting piece of theatre. They weave about the stage, posturing, shouting, threatening, cowering – and in the end, in the true sense of the Absurd, achieve nothing.
The set, costumes and lighting of this play all promise good theatre – but the theme and the direction are heavy and depressing.
Carol Wimmer
To keep up with the latest news and reviews at Stage Whispers, click here to like us on Facebook, or follow us on Twitter.