Mamma Mia!
Music & Lyrics: Benny Andersson & Björn Ulvaeus. Additional Music & Lyrics: Stig Anderson. Book: Catherine Johnson. Queensland Musical Theatre. Director: Sherryl-Lee Secomb. Musical Director: Julie Whiting. Choreographer: Bec Swain. Twelfth Night Theatre, Bowen Hills, Qld. 5-14 November 2021
Mamma Mia! is the ultimate feel-good musical, and after a year of Covid restrictions it feels good to finally get back to a jam-packed theatre of patrons whistling, cheering, and singing-along to this favorite soundtrack.
Mamma Mia! is a critic-proof jukebox musical that entertains. The story, as familiar as any Shakespeare tale, takes place on a Greek island where 20-year-old Sophie (Sophie Mason) is planning for her wedding to Sky (Christopher Morphett-Wheatley), but wants her father at the ceremony. Complications ensue when three prospects turn up, Sam (Jordan Ross), Bill (David McLaughlin) and Harry (Peter Bothams), to the alarm of the would-be-bride's mother, Donna (Carole Williams).
This 'paternity whodunit' is played out on a set that resembles a Greek taverna with vines running over it, an inset of a cupboard that ingeniously contains a Murphy-bed (Donna's Bedroom), and a sunny and youthful cast.
Carole Williams knows the Donna role backwards, having appeared in the first community theatre production of the show at Ipswich in 2019. The voice is strong, the notes are sure, and she hits the money notes with power. Her 'Slipping Through My Fingers' had a touch of poignancy to it, with 'Winner Takes It All' a genuine showstopper.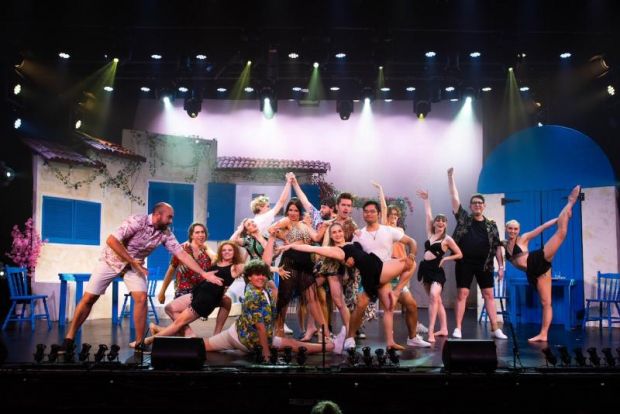 Sophie Mason's vocals as Sophie got better as the show progressed and partnered well with David McLaughlin's Bill on 'The Name of the Game'. McLaughlin's Bill was a strong performance, a bit blokey, but totally in character, as was Peter Bothams' Harry, who was strongly British and held the spotlight in 'One last Summer'. Jordan Ross' Sam had a ton of charisma and vocally impressed on 'S.O.S' and 'Knowing Me, Knowing You.' Lisa Alsop's Tanya did her world-weary best in 'Does Your Mother Know', reacting with a gauche but funny Darcy Rhodes as Pepper, whilst Fiona Buchanan's Rosie milked the laughs on 'Take a Chance'.
Sherryl-Lee Secomb's direction kept it moving despite having to accommodate 50 or more dancing and singing chorus girls on stage with Gillian Peterson stealing the spotlight as a traditional Greek Ya-Ya.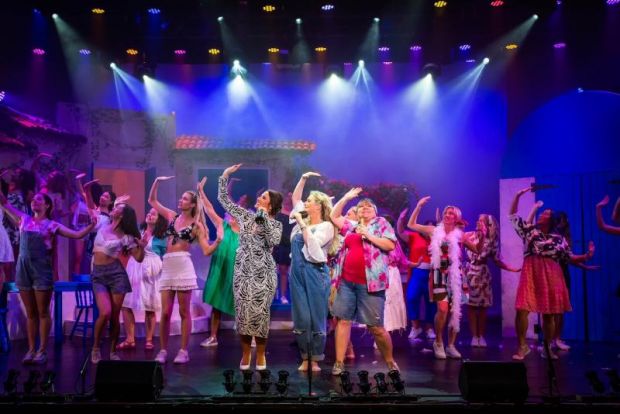 I missed the impossibly high platform-soled boots in 'Donna and the Dynamos' routine, any hint of an English council-estate upbringing in Donna's accent, and Julie Whiting's orchestra, despite four keyboards, sounding thin at times. But the finale was one big sing-a-long with the audience on their feet and cheering.
Gone were the post-covid blues - it was a feel-good celebration. Mamma Mia! had worked its magic again!
Peter Pinne