Mamma Mia!
Music & Lyrics: Benny Andersson & Bjorn Ulvaeus. Additional songs by Stig Anderson. Book: Catherine Johnson. Ipswich Musical Theatre Company. Direction: Robbie Parkin. Music Director: Matthew Rofe. Choreographer: Simon Lind. Ipswich Civic Centre, Ipswich, Qld. 13-22 September 2019
Ipswich Musical Theatre did Mamma Mia! proud. The first community company in Queensland, to present the worldwide behemoth, the mix of ABBA tunes and a 'paternity whodunit' plot was irresistible to the mainly female audience. Opening in London in 1999 this jukebox musical spearheaded the era of female empowerment musicals (Wicked/Legally Blonde) and twenty years later still seems as fresh as new paint thanks to Robbie Parkin's acute production and a youthful cast with buckets of energy.
As single mother Donna, Carol Williams has spunk, personality and hit the vocals into the stratosphere. She found pathos in "One of Us" and "S.O.S.", but her "The Winner Takes it All" was a true diva moment.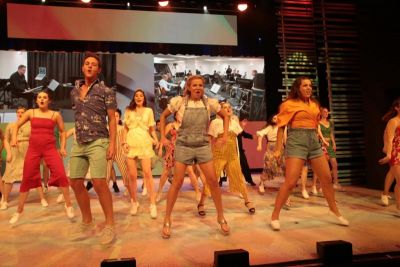 Heidi Enchelmaier as daughter Sophie, the girl who wants to know her father and invites the three possibilities to her wedding, had a ton of spirit and some searing vocal chops; sweet when necessary, as in "I Have a Dream", and the full belt with her potential fathers on "Thank You For the Music".
E.J. Campbell did well as Tanya on "Does Your Mother Know", ably assisted by Simon Drew's Pepper doing some impressive splits, whilst Simone Behrendorff brought lots of laughs as Rosie with her amorous advances to the redoubtable Adrian Carr (Bill) on "Take a Chance on Me".
Ian Moore (Sam) had his spotlight moment with "Knowing You, Knowing Me", Raymond Chander (Harry) did likewise with Williams on "Our Last Summer", whilst Jesse Olds (Sky) exuberantly led the boys in flippers in "Lay All Your Love On Me".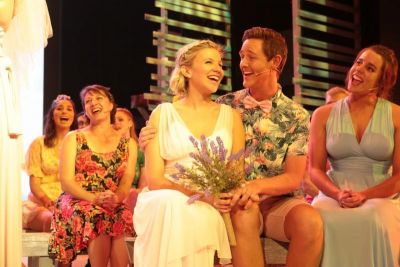 The use of a full-stage LED screen with ocean and beautiful sunsets enhanced the sets, whilst Mary Slattery's wardrobe mixed and matched in a colour-frenzy.
If I have any complaints, it's that the staging of Donna and the Dynamos' "Chiquitita" behind the upstairs vine covered railing diminished the impact of the costumes (a fault of the recent commercial revival)s.
Matthew Rofe's musical-minions produced the distinctive ABBA sound, whilst Parkin's direction kept it pacy.
With an audience member proclaiming as they exited "I could go back and watch it all again", it was proof that Parkin had done his job well. You can't get a better recommendation than that!
Peter Pinne