Mamma Mia!
Music & Lyrics; Benny Andersson & Björn Ulvaeus. Additional songs by Stig Anderson. Book: Catherine Johnson. Empire Theatres Production. Director: James Shaw. Musical Director: Craig Renshaw. Choreographer: Tess Hill. Empire Theatre, Toowoomba, Qld, 5-15 Mar, 2020.
On the 20th anniversary of presenting pro-am productions of musicals in the refurbished Empire Theatre, it's entirely appropriate the company should present Mamma Mia!, also celebrating its 20th anniversary. Ever since Judy Craymer originally conceived it, the show has been a licence to print money, having played to over 65 million people in 40 countries and grossing over $4 billion at the box office. The movie alone took $615 million worldwide.
Craymer's idea, of a young girl Sophie wanting her father at her marriage on a Greek island, gets complicated when she discovers there are three possibilities. It was musical theatre gold. Adding to the lustre was a score of ABBA hits and the goldmine was complete.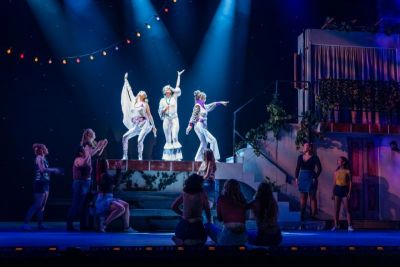 This production would have to be one of the best pro-am productions of the musical I have seen. A good-looking cast, snappy choreography and great sound were the plusses in a show that was tight and zippy thanks to director James Shaw. You could almost smell the Retsina and olive oil in Josh McIntosh's set, and his beach milieu costumes (both courtesy of Packemin Productions) fitted the young cast to perfection.
Diana Holt, as the mother of the bride, gave a nice rounded performance as Donna. At times the role can come across as bitter, but Holt managed to play the angst and still be likeable, although with little (or no) regional accent, it was hard to believe she was a mum from an English council estate. Vocally she was spot-on, wringing pathos out of "Slipping Through My Fingers" and "The Winner Takes It All".
Sophie Volp, as her daughter Sophie, mixed spunk and sweetness and sang prettily, whilst James Taylor's Sky had a youthful naivety that pleased.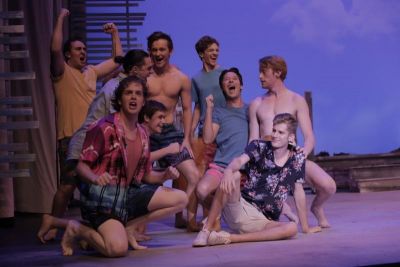 Empire Theatre stalwart Vicki Bravery was in her element in another fine performance as Tanya. Waspish and dry, she scored with the boys in "Does Your Mother Know", and working with Gayle Dixon's funny and rambunctious Rosie, brought the house down with "Chiquitita".
The three dads - Trent Sellars (Harry), Tristan James (Bill),and Michael Escober (Sam) - acted well and made the most of their centre-stage moments, especially Sellars' "Our Last Summer".
ABBA's songs have a wide vocal range and are hard to sing, but this cast, with backing pit vocals, did an excellent job of creating the sound and style of the group.
Finally, the band under Craig Renshaw had the theatre rocking and swaying with the finale walk-down and encores raising the applause meter to deafening levels.
It's not the best jukebox musical but it's certainly one of the most popular. This Greek island excursion was a joy!
Peter Pinne
Images: Lucy RC Photography.