Mamma Mia!
Music by Benny Andersson and Björn Ulvaeus, originally written for ABBA. Book by Catharine Johnson. Gosford Musical Society. Laycock Street Community Theatre. March 6 - 21, 2020.
Mamma Mia! has been playing to sold out houses around the world since its debut in the West End in 1999. It's so popular that it spawned not only the 2008 film, but also a sequel, aptly named Mamma Mia! Here We Go Again in 2018, starring a little too much Cher and not enough Meryl Streep. The long-awaited community theatre performance rights were finally released mid last year, and so began the tsunami of mirror balls, spandex and synthesized music across regional Australian theatres.
Gosford Musical Society was bound to be amongst the horde of companies applying for the rights, but GMS have a secret weapon up their sleeve that many regional companies do not - Rebecca Johnston and her fantastic production team. Johnston's vision and stellar direction of this, let's be totally honest, kitschy musical far outshines any recent productions on Australian stages. Her direction has taken Catherine Johnson's somewhat janky script and polished it until it glimmers. The songs don't feel crowbarred into the plot anymore, and at points I might even have thought they were written specifically for the musical, had I not been raised by same sex parents. ABBA forms part of the soundtrack of our people.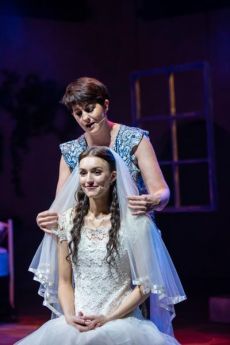 Sancia West as Donna commands the stage, but it's Dana MacPhail and Samantha Powell as Tanya and Rosie respectively who bring the heart and comedy to the trio. Felicity Jackson brings a naïve warmth to the role of Sophie, with Rayelle Payne and Maddi Zuereb as her best friends Ali and Lisa bringing the energy in spades to the younger trio. The male cast hold their own, with Stephen McDonald as Sam, Marc Calwell as Harry, David Rowe as Bill, and Damon Wilson as Sky all leaning into their roles with enough style and charisma to please, while ensuring the focus is on the story of female identity and independence. Special mention must be given to Darren George's cameo as the priest, not a role destined to be a scene stealer, but here we are.
The production design overall is almost flawless. Johnston provides set design, and Jody Leslie's costume design is perfectly 'of its time'. It's painful because until witnessing this work I hadn't truly realised the 1990s, like the 1980s, really did have its own look, and that most upsettingly the era I grew up in is now vintage. Damien Rice never fails to delight with his lighting, as does Sandy Chapman and Dean Harrington's sound design, perhaps a little louder in Act One so those chosen to star on stage are always heard over the 6 people who choose themselves to star in the row behind me. I suppose that's the curse of ABBA; there's destined to be an unprompted and unwanted singalong every now and then.
Hayley Liddell and Jessica Mann's choreography finds the right mix of music theatre, disco, and whatever dance style the 90s spawned to complement, rather than outshine, Johnston's vision.
But above all of this, this musical is a loud and proud tribute to one of the biggest pop groups in history, a group that tapped into the mania of the Beatles and the global popularity of disco of the 1970s. Nathan Barraclough returns as musical director after his impeccable work on We Will Rock You (2018) and Strictly Ballroom (2019). With him at the helm (assisted by Chris Hochkins) it's no surprise that the hidden 9-piece band is comparable to the original artists themselves.
Don't bother rushing to get tickets, the show sold out weeks before it opened. Those lucky few with tickets, enjoy this theatrical feast. Those without, my condolences.
Joshua Maxwell