Managing Carmen
By David Williamson. Ensemble Theatre, Sydney. Director: Mark Kilmurry. 6 December, 2012 – 26 January, 2013
Last Christmas David Williamson brought joy and full houses to the Ensemble Theatre with the world premiere of his Nothing Personal, starring Greta Scacchi. This Christmas it's his Managing Carmen, though not quite a world premiere — the Queensland Theatre Company did that a few weeks ago — and the advertised star name, Garry McDonald, had been replaced somewhere along the way. No problem, no danger: this looks like being a monster hit for Williamson and for the Ensemble, his 'spiritual home'.
Carmen is the drag name used by top Aussie Rules player Brent Lyall (Leigh Scully, exactly right as supermale sportsman and slim nightclubber). He's not gay, you understand, just a secret cross-dresser, which, if word got out to the press, is quite enough to throttle his career and dry up the $30 million product endorsements that his hyperactive manager Rohan Swift (Glenn Hazeldine) is so busy putting into place.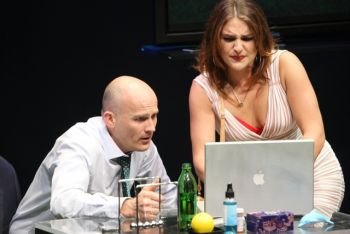 Not that Brent is any good at spruiking on camera: he's even worse than Ricky Ponting. So Rohan hires corporate psychologist Jessica (Rachel Gordon) to unlock his acting abilities. She unlocks much more than the increasingly demented manager can imagine.
The busy cast also includes Morgana O'Reilly as Brent's paid girlfriend cover, and David Hynes as Max, the sleazy sports journo (boo!) determined to rake muck.
Under Mark Kilmurry's fast and fluid direction on Steven Butler's all-in-one setting, the play has masses of laughs and something to say about the treatment and toleration of minorities. The Ensemble audience, fully warmed up in the second act, raise the roof as fab frocks and disco dancing win the day. It was almost Christmas panto time.
Frank Hatherley
Images: Glenn Hazeldine and Leigh Scully & Glenn Hazeldine and Morgana O'Reilly
in Managing Carmen. Photographer: Natalie Boog.