Margaret Fulton: Queen of the Dessert
Book and Lyrics by Doug Macleod. Music by Yuri Worontschak. Bondi Theatre Company. Bondi Pavilion Theatre. 12-27 October 2018
This new musical is a winner, like the woman this show immortalises. The story is based upon renowned Australian chef and cook book writer Margaret Fulton. Fulton is now 94 and recently met up with this production's magnificent team to put the cherry on top of this wonderful musical show. Her life is fascinating as she triumphs over poverty, adversity and a string of dud husbands to become Australia's most famous and followed writer chef. Her first major cookbook, "The Margaret Fulton Cookbook", was published in 1968 and sold one and a half million copies.
Her tale has been turned into the musical, with book and lyrics by Doug MacLeod and music by Yuri Worontschak. There are lots of songs, plus dance, well delivered by the cast of six actors. The mixing and backing is superbly done by director Ruth Fingret and topped by wonderful choreography by Emma Jarman and Veronica Clavijo.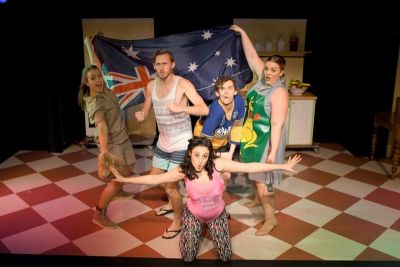 This rollicking tale is driven by the marvellous Manon Gunderson-Briggs playing Margaret Fulton. She embodies drive, dedication and charm. So we see why Fulton overcame so many hurdles and became a great Australian success. Gunderson-Briggs is captivating and makes believable all that occurs. She is ably supported by five actor/singer/dancers who each play a variety of characters as we cruise through decades of Fulton's life and achievements. Rebecca Spicer is a stand out as Fulton's best friend (amongst other roles). Director Ruth Fingret is the ringmaster of this swirl of story, songs and dance and she nails it by keeping up a cracking pace, adding a pinch of sadness, a dollop of happiness and a big serving of energy and excitement.
This is the first full performance season of Margaret Fulton: Queen of the Dessert. I feel there will be many more.
Stephen Carnell
Images: Lightbozx Photography