Maria Stuarda
By Donizetti. Millennium Opera (Vic). Musical Director: Michael Woods. Phoenix Theatre, Elwood. Nov 17 – 19, 2015
In the early 70s Brian Hansford produced some Mozart Operas to give his students performing opportunities. These were staged with minimal sets, costumes and piano accompaniment. In the late 70s and beyond, Bettine McCaughan's students formed Melbourne Opera, which performed a number of operas on a similar basis.
Since then the number of semi-professional opera companies has exploded. Singing teacher Joseph Talia founded Globe Opera, which evolved into Melbourne City Opera, and many of the minor roles and some major were allocated to his students.
No longer associated with this company, he has now formed a new company to give his students the chance to perform. Included in the cast were other former members of Melbourne City Opera.
I have attended the Phoenix Theatre on a few occasions, but never realised it included an orchestra pit. With a small stage, other productions had this space covered over.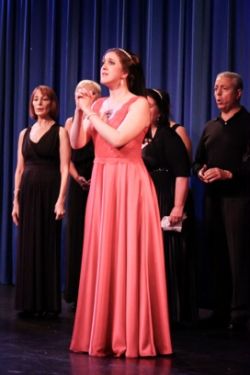 I wasn't sure what to expect, but the overture was very good, and showed promise. Then I found the opera was to be staged with no sets or costumes. Most of the characters were in black, except for the two queens, who wore lovely ball gowns. It was also soon obvious that no director had been employed.
It didn't matter.
Though the voices may not have had the polish of the professionals I'd heard recently, they were very good, and hearing operatic voices in an intimate venue is an experience not to be missed. Though the three main protagonists were double cast and there were only two performances, they all sang confidently.
Emily Szarbo, in the title role, has a lovely voice and commanding presence, and coped with the coloratura with ease. Kathryn Grey was also excellent as the imperious Queen Elizabeth. Nick Seidernman used his ringing tenor to good effect as Leicester.
Bass Desmond Lukey struggled with the baritone role of Cecil, but Ian Lowe was impressive as Talbot. The chorus appeared unbalanced, with four tenors, two basses and four women, but when they sang together they made a thrilling sound
I did not miss the sets or the costumes, but some direction would have helped. The chorus just stood around when on stage and the singers tended to just sing out front, instead of to each other, which they could have done in this intimate venue.
But opera is about singing, and that was good!
Graham Ford