The Marriage of Figaro
By Wolfgang Amadeus Mozart. Libretto: Lorenzo Da Ponte. Based on La folle journee, ou le marriage de Figaro by Piarre Beaumarchais. Opera Queensland with the Queensland Symphony Orchestra. Conductor: Dane Lam. Director: Patrick Nolan. Choreographer: Elise May. Playhouse, QPAC. July 15 – 31, 2021
Opera Queensland this year celebrates its 40th Anniversary, and what better way to celebrate it than a sparkling new production of an opera that is considered a cornerstone of the repertoire, Mozart's The Marriage of Figaro. The story of the servants Figaro and Susanna and their efforts to get married and foil the efforts of their philandering employer, Count Almavira to seduce Susanna, is the classic infidelity plot enjoyed throughout the years in everything from Upstairs Downstairs to Downton Abbey.
Patrick Nolan's production zips along at a cracking pace, with high spirits and a zest equivalent to a glass of chilled Moet.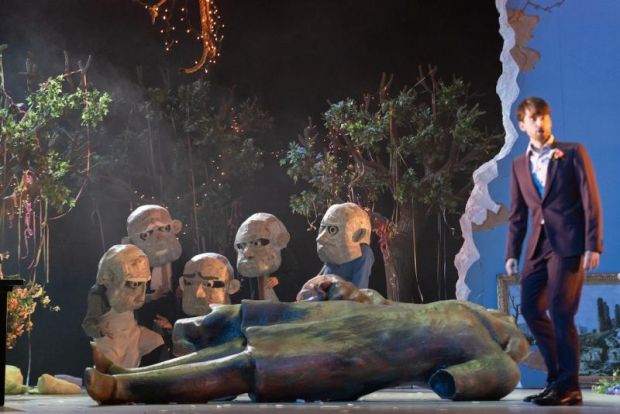 Leading the high jinks was Jeremy Kleeman as the young swain, Figaro, and Sofia Tronosco as the bride-to-be and object of the Count's infatuation, Susanna. They captivated as a handsome couple in love, and brought fine comic instincts and real emotion to their roles. He was particularly strong and lyrical in "Se vuol ballare", whilst her silvery-voiced soprano registered with quiet yearning in "Deh, vieni non tardar".
Opera Q stalwart Jose Carbo was wonderful as the libidinous Count. Singing with great vocal authority and bravado, his "Vedro mentr'io sospiro" was stunningly effective.
Opposite him as the Countess, Eva Kong was dignified, yet hiding the desperate melancholy of a wife plagued by an unfaithful husband. Her "Dove sono i bei" was simply superb, as was her "Canzonetta sull'aria" with Tronosco.
In the 'trouser' role of Cherubino, Xenia Puskarz Thomas handled the cross-dressing comedy well, and displayed a strikingly dynamic mezzo in "Non so piu". Hayley Sugars was heaps of fun as Marcellina, Jud Arthur was a worthy antagonist as Bartolo, whilst Bradley Daley's Don Basilio added comic charm.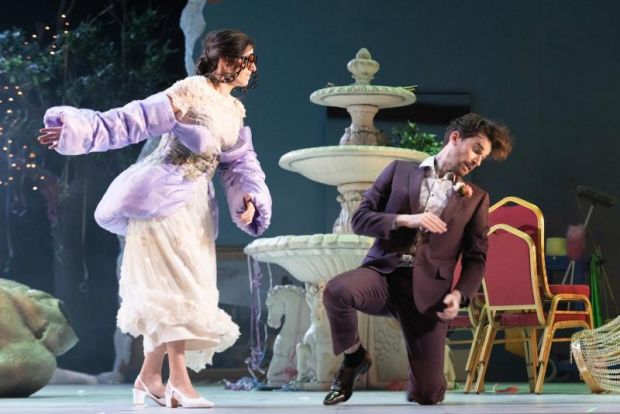 The Marriage of Figaro was written on the eve of the French Revolution and features political messages and themes of the day. Nolan's concept for this new production has been to set it in contemporary times with allusions to the original period.
Marg Horwell's set is messy, with chandeliers on the floor, dining chairs and mattresses stacked against the wall, and plastic champagne glasses. There's also the head of a statue downstage throughout the play, with the headless torso revealed at the finale. It's supposed to represent recent political events that have led to statues of nobility being torn down around the globe. Likewise, Horwell's costume designs combine working-class with the couture of the wealthy. It's a mish-mash which lacked a cohesive style.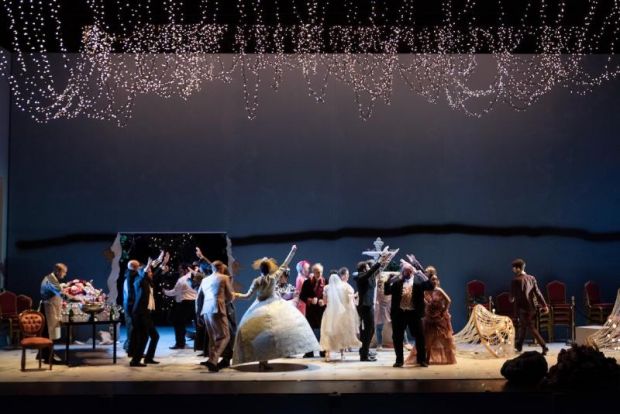 The score's humor and sadness was beautifully expressed by the orchestra led by Dane Lam. An excellent conductor, his control, was nuanced and lively which contributed enormously to this night of classic opera buffo.
Peter Pinne
Images by Jade Ferguson. Visual Poets Society.