Masterclass
By Terrence McNally. Starring Amanda Muggleton. Andrew Kay in Association with the Kings Head Theatre, London. Directed by Adam Spreadbury-Maher. The Studio, Sydney Opera House. March 20 - April 8, 2018
You can see why Amanda Muggleton would keep returning to the part of Maria Callas in Terrence McNally's Masterclass. She's played her a number of times before and is now wrapping up an Australian tour - and still she revels in the role. You can tell that she loves the interaction with the audience, the jokes and the melodramatic character of one of the world's great opera divas.
The play is based on vocal classes Callas gave to young singers at New York's Juilliard School in the 1970s. She enters to applause and unconvincingly scolds the audience for adoring her, then picks out individuals and tells them they don't have "the look" or some other sweet-laced insult. At this point in her career, Callas no longer has her stunning soprano voice but has no problem venting her opinion. She sees three junior singers in turn, tearing each of them apart, even before they start singing (thankfully, they win her over). Against a backdrop of photos from her life, she also reprises some of her key roles and turbulent personal stories.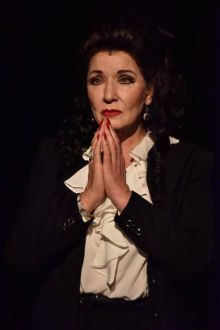 Muggleton is commanding. Her performance is now polished to a shine but also feels fresh, probably because she's enjoying it so much. But she also captures a vulnerability in this overpowering woman. It's as if Callas's overblown self-confidence is sometimes an attempt to convince herself that she is happy.
This production is keenly directed by Australian Adam Spreadbury-Maher, who has been artistic director of the King's Head Theatre in London and led numerous operas there. His work with the three young singers (Kala Gare, Tomas Dalton and Jessica Boyd) is outstanding.
It would be remiss not to mention Dobbs Franks, playing the accompanist Manny Weinstock. His performance at the piano is brilliant and the production is very lucky to have him.
While no-one is ever going to upstage Muggleton, there is a fantastic singing encore from our two sopranos and tenor. They are wonderful, each in their own way. And Boyd's "Queen of the Night" aria from The Magic Flute sends a shiver up the spine. What an astonishing way to finish a great show.
Peter Gotting
Photographer: Kate Ferguson