The Mastersingers of Nuremberg Act 3
By Wagner. State Opera of South Australia Adelaide Festival Centre. August 4, 2018.
Sometimes what is promised on the box is what you get, and this twenty-year celebration of the first production in Adelaide was packed with masterful singers.
The semi-staged production of the third act of Wagner's only comic opera delighted the full house with the quality of the music, played superbly by the Adelaide Symphony Orchestra under the assured baton of Nicholas Braithwaite, returning to Adelaide for this special performance. The music they created soared and melded beautifully with the singers.
The story is simple. The Nuremberg Guilds hold an annual singing competition. The prize is fiercely contested to see who will become the Mastersinger and this year's competition is all the more competitive because Eva (Kate Ladner), the beautiful daughter of Pogner (Pelham Andrews), is part of the prize, although she does have the final choice as to agreeing to marry the winner.
There are the expected rivalries involving the cheating Town Clerk (Andrew Shore), Hans Sachs (Shane Lowrencev), the respected shoemaker who, while in love with Eva, is determined to see fair play, and Walther (Bradley Daley), the outsider and challenger who is also in love with Eva. However, Hans has a plan to get Walther into the competition even though he isn't a Mastersinger.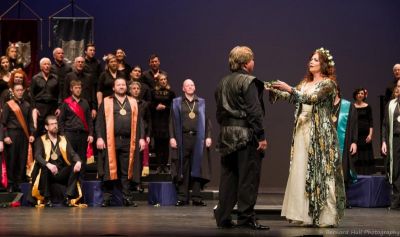 This all-star cast included many notable Wagner specialists, in particular Shore as Sixtus Beckmesser. Shore was superb both as an actor and a singer; his physicality told the audience everything about his character. He was the perfect Wagnerian version of the classic Pantalone character from Commedia and the audience loved him. Ladner was everything you would hope for the in the role of Eva; beautiful, romantic, open and idealistic. Her voice was superb and captivated not only Walther but also the audience. Lowrencev's dignified and thoughtful manner combined with superb technique and stamina for the huge role that held the whole story together. And there always has to be a hero, and Daley fitted this role perfectly and, as befits a hero, he is made a Mastersinger even if he is a reluctant one and Eva agrees to marry him.
Together, at the end of the first part of Act 3, the main characters created one of the most enchanting quintets I have heard. And the second part was filled with the power of the human voice amplified by the huge State Opera Chorus, with vignette performances by many of our favourite home-grown performers.
This was my first Wagnerian experience. I was unsure about what to expect and was surprised and delighted by how much I enjoyed the music and Sinclair's direction. The Mastersingers may have been semi-staged in terms of set and costumes but it was fully staged in musical terms and was, in the end, a master class in singing.
Sally Putnam