Matador
Her Majesty's Theatre, Melbourne. April 29 – May 2, 2021
After a sell-out 2019 tour, Matador has returned to Melbourne. The lush red surrounds of Her Majesty's Theatre (with a small built-out catwalk at the front of the stage, surrounded by cafe chairs, cabaret-style) were perfect to showcase Matador's fusion of dance and circus, with overtones of burlesque, and hints of old-world movie glamour in some of the pas de deux routines.
The show opened with beautiful images projected onto the stage, showing the story between the Matador and the lovelorn Bull, spoken in Spanish, but written in English, a smart way to draw the audience in.
The cast of dancers and circus performers burst onto stage, and generously kept that supercharged energy burning all the way through the show, as they worked their way through seamlessly integrated contemporary and ballet dance acts, some steamy Latin numbers, some burlesque-influenced acts, and jaw-dropping aerial and circus acts. The costumes were simple but effective, flamenco- and tango-inspired.
My companion observed that he could see every single performer clearly enjoying themselves, and that infectious energy had a great deal to do with the show's success.
Matador focussed on the trials and tribulations of love: from unrequited love, to infidelity, to finding that the one who makes your heart sing is not the one (or the gender) you were expecting at all. The tender moment when one of the male dancers finally allowed himself to walk away from a tempestuous breakup with a woman to embrace his male lover was the moment when the typically-restrained Melbourne audience finally found its voice (and its applause). The aerial act between the two lovers that followed was lyrical and quite breathtaking; and bookended another aerial routine with two female performers defying gravity in a heart-stopping way using a suspended, spinning hoop.
For me the highlights of the show were when all 14 performers were on stage and powering their way through synchronised routines with music so wonderfully loud I felt it in my bones; and the quiet intensity of the circus and aerial acts, all of which had a true emotional arc to them that counter-balanced the highly-trained physical skills on display. Matador's choice to showcase queer love within its flowing storylines was another high point for me.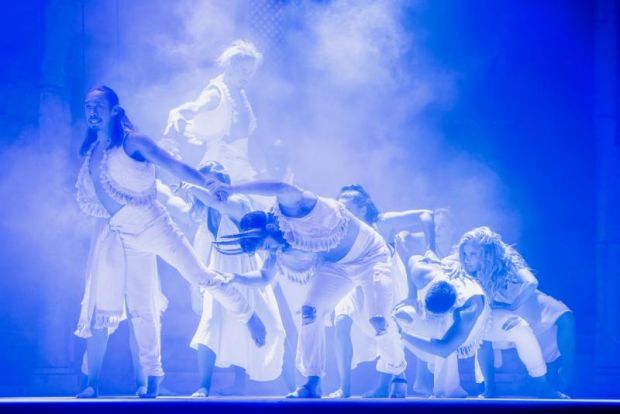 Matador was high-energy entertainment, fearless, fluid, beautiful and unafraid.
Alex Armstrong
Photographer: Ben Vella