Merciless Gods
By Dan Giovannoni, adapted from short stories by Christos Tsiolkas. Little Ones Theatre & Darebin Arts Speakeasy. Northcote Town Hall, Northcote (VIC). 25 July – 5 August 2017
Merciless Gods tells merciless stories. There are eight stories here, each with its own burden of pain, each one taking the audience (if we care to go) into depths of sorrow, into places and emotions that are faced unflinchingly. The stories are linked by theme and some characters recur. As we might expect, many of the characters are of first generation non-Anglo ethnicity and gay – outliers, misfits and desperates. This is not an easy night of theatre; it is confronting, even threatening, in its dark truthfulness.
The first piece in the show has some hipsters playing a party game, which becomes a tale of teenage humiliation and a relentlessly held desire for revenge. In the second piece, a Greek mother, all in black, tries to watch a porn video – all she has now of her son. In yet another piece, one that elicits laughter, the laughter is of discomfort; it revolves around a middle-aged woman writer, self-absorbed and self-loathing and drinking herself to death. She prowls the stage in a brilliant red trailing robe and nothing else – a 'f**k you' provocation and an implicit sign of defeat.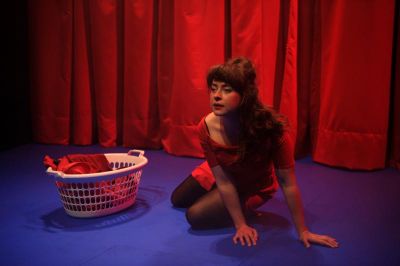 The cast of six play multiple and widely differing roles, and they are excellent. Brigid Gallacher, who can be so touching, here pronounces moral judgement on the hipster revenger; spits venom and contempt as the alcoholic writer's feminist but unwillingly dutiful daughter, and then despairs as a mother who loves but has come to despise her son. Paul Blenheim makes stunning transformations: the chilling revenger and then an intimidated, out-of-his depth young fellow, to a hunched almost naked figure, a male prostitute, broken at the loss of the only man he's ever loved. Sapidah Kian is the hipsters' truth teller and red spirit who narrates a sweaty, spermy story of anger and humiliation in a male bathhouse. Peter Paltos is a nice guy, a 'good man', but then he's the ruthless, blinkered and punishing ideologue in a gaol. And Charles Purcell can be a butch guy, or a rent boy accepting humiliation so as to be 'free', or a good forgiving son. Jennifer Vuletic is startling, frightening and unforgettable, not just as the alcoholic writer and as the Greek mother, but also as a sick old man amongst his ambivalent family, preparing for death.
Eugyeene Teh's design is stark – a red curtain and a long triangular, bare stage dividing the audience in two. In his costume design, red predominates, suggesting heat, passion, but also danger. Katie Sfetkidis' lighting isolates figures on the small stage or obscures them in gloom, figures remembered, lost or out of reach. Daniel Nixon's restrained sound design is entirely at the service of the characters' emotions.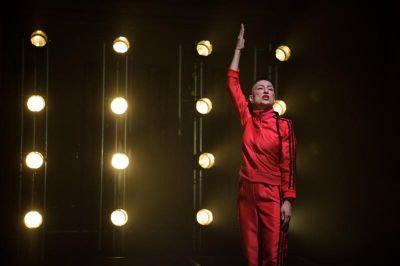 Nevertheless, for all these achievements and strong choices, I wonder at whether Little Ones Theatre is striking out in a new direction here or is somewhat constrained by this adaptation. I've seen other of Stephen Nicolazzo's work which has been distinguished by a superb sense of style – or rather stylisation – that is in itself both witty and a subversive comment or gloss on the material. Merciless Gods is no naturalistic psychodrama, but it is necessarily pushed into more raw, direct emotion, and style here comes from heightened performance, the design and lighting. Meanwhile, in the matter of the text, Christos Tsiolkas' stories, as written, may have an intractable quality that perhaps hampered Dan Giovannoni as a dramatist. Mr Giovannoni is a fine and sympathetic writer with an acute sense of character, but here, to capture and put on stage the 'voice' of the Mr Tsiolkas' characters, he often deploys monologues – undeniably powerful monologues, delivered with conviction and passion – but whether by choice or by a sense of necessity I cannot say. While we are held, even awed, this sort of storytelling is at one remove and doesn't have the directness and impact of the three of the eight pieces that enact the conflict, the pathos and the dark emotions.
That reservation aside, Merciless Gods delivers clear-eyed insight into dark places. If such is not your idea of a good time, then this is not the show for you. It is powerful, direct, brutal and courageous, not softening or shying away from its distinctive source material.
Michael Brindley
Images (from top): Charles Purcell, Brigid Gallacher and Sapidah Kian. Photographer: Sarah Walker