The Merry Widow
Music: Franz Lehar. Libretto: Viktor Leon and Leo Stein. Translation: Justin Fleming. Opera Australia. Direction & Choreography: Graeme Murphy; Conductor: Brian Castles-Onion. Joan Sutherland Theatre, Sydney Opera House. 5 - 16 January 2021.
If ever there was an argument about how essential the Arts are in the time of Covid, then look no further than OA's elegant and fun production of The Merry Widow. On the practical side I'd suggest that such productions keep in gainful employment far more people than sporting events, and therefore are better for the economy. On the emotional side these shows, to quote Tim Rice, "take us away from the squalor of the real world" and provide us not only some much-needed reprieve from coronageddon and the US election, but also a sense of hope to keep us perservering.
It also says something about how great a production is when it can take a show just over a century old, that's been performed too many times to count, and make it seem as fresh and lively as if it was written yesterday. And that's what OA has done here with The Merry Widow.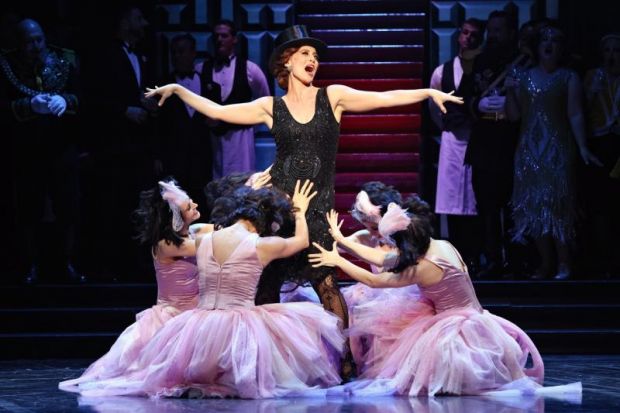 The all-Australian cast can't be faulted. Everyone plays their parts with panache and humour. However, in comparison to other (non-OA) versions I've seen, they also go the extra step of giving their characters an added emotional depth and layer of humanity. As the widow of the title, Julie Lea Goodwin is just gorgeous, and the delicate beauty of her voice could lead to us to swoon. Further, she played the role as a widow who was merry, in that she was happy-go-lucky, well-meaning, and joyful. When she makes Count Danilo jealous by being flirty at Maxim's nightclub (wi' ze faboolahs fake French aksohn), she still comes across as being a merry widow, not a promiscuous widow that I've seen others do. Ms Goodwin's showstopper aria Vilja had the audience spellbound. In Ms Goodwin's hands she takes a song about a one night stand (wood-nymph romps with lovestruck lad in a cave then leaves him straight after) and makes us believe this is the true aim of Love and Romance.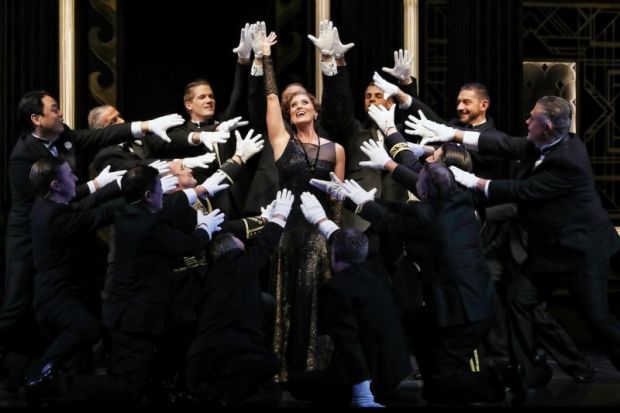 Alexander Lewis as Count Danilo was an equal match, and his voice is one of those rich velvety tenors that would have women sighing. The same can be said for the rest of the cast: such great voices! And all led by the conductor Brian Castles-Onion, who conducts with a potent mix of precision and passion.
And what about the waltz? You know, THAT waltz, for which the operetta is now mostly known by the general public. Like the rest of the show, it is just sublime. In the hands of this orchestra and cast the waltz comes over as haunting and beautiful, making me feel like I was hearing it for the first time and tugging at my heartstrings.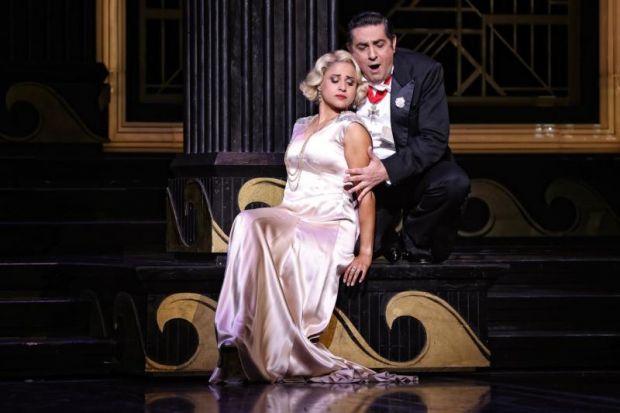 The show is performed in English, with a brilliantly witty translation from Justin Fleming. Opera Australia's decision to post surtitles along with the singing is a wise one. A couple of times in the big chorus numbers the words did get lost, so it helped that we could also read them. I point out that this is not the fault of the singers. When this happened it was in sections where the notes were high and the tempo was fast. To slow it down would kill the effect. But worse still, the lyrics there were full of crispy consonants. The combo of register, speed, and consonants is not singer friendly, so let's not throw shade on the cast. And also let's not forget the energetic and brilliant dancers, who brought their intricate routines alive in small areas – especially in the kolo dances in Act 2.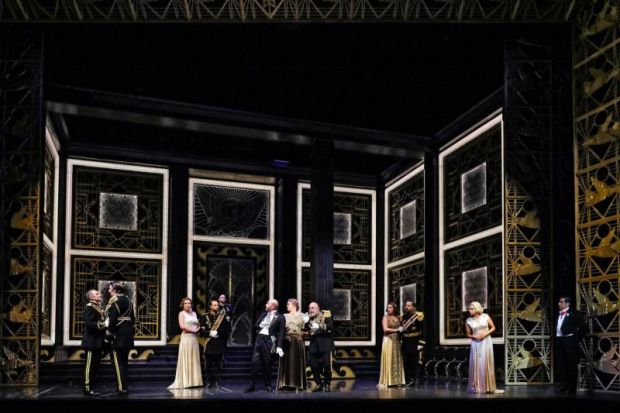 With productions like this it's easy to see how The Merry Widow had such a massive impact on pop culture and why it was a success. I know many trained musicians who regularly claim that the modern musical was born from this show – and not from G & S, Offenbach, etc. I can certainly see why.
It's a pity there are only 11 performances. I hope they revive it again.
Perfection.
Peter Novakovich