The Merry Wives of Windsor
By William Shakespeare. GRADS. Directed by Thomas Dimmick. The New Fortune Theatre, University of Western Australia, Nedlands, WA. Mar 5-14, 2020
Perth's Shakespeare fans have been very spoilt in the last couple of years, with numerous productions, both community and professional - with this being one of two outdoor Shakespeare productions this week. The Merry Wives of Windsor, though, is a particular treat, as I don't remember this playing within the last twenty years, and GRADS - Graduate Dramatic Society's production is a fun, frolicsome, well presented production.
Playing in UWA's The New Fortune Theatre, which has the exact measurements of the original New Fortune, the audience feels close to the action - and with the cast moving through the crowd, and direct address to the audience, we are drawn into this highly comedic romp of a tale.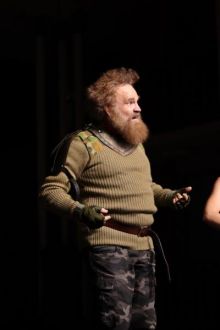 Said to have been written because Queen Elizabeth desired another play about Falstaff, The Merry Wives of Windsor has a little of the "fun at the expense of impact" that we now see in movie sequels (which is perhaps why it is less frequently performed). But this is directed so that while it receives lots of belly laughs, we still feel the beauty of the language and the writing.
The title roles - friends Mistress Ford and Mistress Page - who receive identical love entreaties from Falstaff and determine to have fun in revenge, are played with lovely camaraderie and teamwork by Anna Head and Meredith Hunter. Highlights include some wonderful coarse acting as they endeavour to entrap and embarrass their would-be lover. Falstaff is superbly played by Grant Malcolm, in a beautifully crafted, very likeable, extremely funny portrayal - where we (sort of) forgive his intended lechery, while delighting in his downfall.
The husbands of the merry wives are nicely played by Andrew Nowrojee, as Master Ford, who takes to disguise to investigate his wife's fidelity - adding to the fun, and a firm and determined performance from Jeffrey Watkins as Master Page.
The love interest in this show is the Page daughter Anne, who is being courted by three suitors. Rochelle Emanuel-Smith is an attractive, centred and sensible Anne Page, nicely pursued by Jason Dohle, a gorgeously awkward Slender, Nigel Goodwin as the confident French doctor, and Cameron Leese as the overtly sexy, barely dressed Fenton.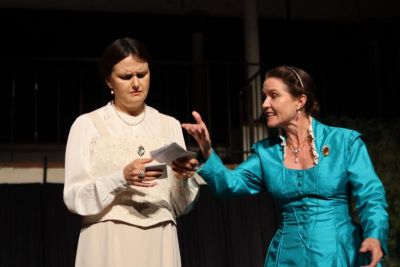 Julie Holmshaw is very well received by the audience, bringing depth and a natural charm to Mistress Quickly, with very solid support from Briana Dunn as a female Sir Hugh Evans, Barry Park as Shallow and Sarah Thillagaratnam as the Host of the Garter. The remaining soldiers and servants are played with distinction by Robert Jackson, Kaitlin Okely, Tarryn McGrath, Shivas Lindsay and Lindsay Crane.
The set, by Dean McAskil, is simple but appropriate, and the show features effective lighting on the temporary rig by Mark Tearle, with costumes by Merri Ford.
A rare opportunity to see this less frequently performed show, this Shakespearean sit-com, is simply good, easy to watch entertainment. A great starter-Shakespeare and good fun for all
Kimberley Shaw