Metamorphosis
By Stephen Berkoff from the novella by Franz Kafka. Hayman Theatre Company. Directed by Tereza Izzard. Hayman Theatre, Curtin University, WA. 8-12 September, 2020
Stephen Berkoff's Metamorphosis is a retelling of the Franz Kafka novella, in which commercial salesman Gregor Sansa awakens in his family home one morning to find himself inexplicably transformed - described in the original as a "monstrous vermin". Still able to think and feel, his family are forced to care for him, cope with the shame of his condition, and to cope with the loss of the family's breadwinner.
An extremely physical production, with a stylised presentation - this production despite its unique look still connects very much with its audience and we find ourselves very drawn to this family. Costuming, by Grace Williams Young, in black and white, reflects the era and locale (it felt reminiscent of Wedekind). Ella Waterman's makeup was stark and stylised. Stephen Carr's set design was essentially a climbing structure which formed the boundaries of Gregor's room - and supported the highly physical blocking of this show - in turn supported by strong lighting choices from Clarissa Lee. John Congear provides an organic, and occasionally unnerving, soundscape.
Samuel Addison delivers one of 2020's most physical roles with great energy, agility and dedication. An impressive bodily metamorphosis is accompanied by monologues and insights into Gregor's thoughts, which allow us to connect with this character - key to the success of this production.
Wonderful teamwork from the Sansa family - Gregor, sister Greta (Shelby McKenzie), mother (Dominique Duvall) and father (Alex Hutchings). The movement sequences (especially their shared meal) are perfectly executed - and their commitment throughout is top notch.
Solid support from Sebastian Boyd, Sacha Emeljanow and Rachel Abelha in supporting roles.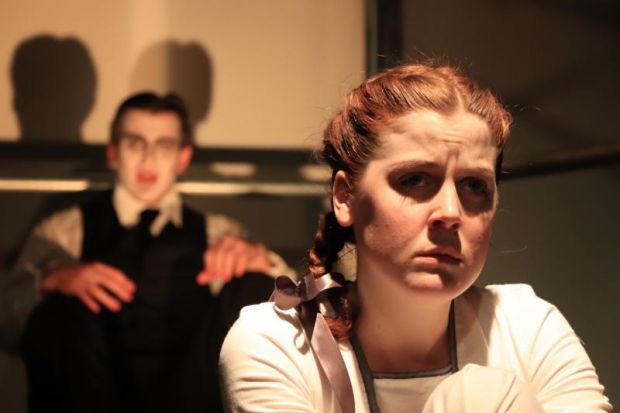 A production with a long pregnancy, this Covid delayed show has had a seven month gestation which has not diminished the ferocity of its presentation. This is a high impact, unique presentation of a classic tale, which is well worth a look. Excellent storytelling - passionate performance in a unique performance package.
Kimberley Shaw