Of Mice and Men
Libretto and Music by Carlisle Floyd. Based on the novella by John Steinbeck. Director: Bruce Beresford. Conductor: Andrea Molino. Opera Australia. Opera Theatre, Sydney Opera House. July 23 - August 11, 2011. Melbourne season in November, 2011.
Bruce Beresford was asked what he would like to direct for Opera Australia and his first choice was Of Mice and Men. It's not hard to see why a director with a strong film background would be inspired by the score.
Here is a piece of music with cinematic intensity. You did not leave whistling the tunes but the richness of the orchestration - ranging from shrieks of terror to deep melancholy - was a whole of body experience.
At the curtain call the composer Carlisle Floyd, looking a little wobbly at the age of 85, was given a well-deserved ovation.
Of Mice and Men is the story of two drifters, Lennie and George, out to make a new start as ranch hands in California in 1936.
They dream of owning their own farm. Lennie is the simple and not so gentle giant. Every pet he loves to touch is overwhelmed by his strength.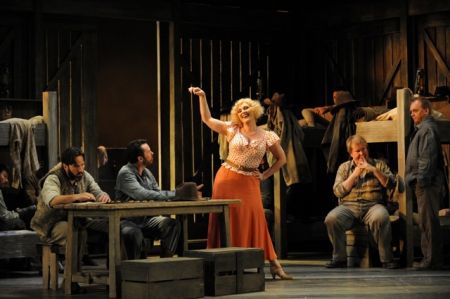 Grammy Award winning US tenor Anthony Dean Griffey played the role. He gave a powerful acting performance with extraordinary diction.
Barry Ryan was touching as George.
The Opera has only one female character. Steinbeck did not even give her a name. She is known as Curley's wife, the frustrated new spouse of the Ranch owner. Jacqueline Mabardi played the temptress, soaring with the high soprano arias and looking every inch like she could eat a man whole.
While the drama was high, it was a static looking production. No choreographer was listed in the program.
When the time came for a chase, Bruce Beresford dusted off his camera to create a movie portrayal of the action. It went on a little long for my liking but the mood was restored by the Opera's brilliant but tragic finale.
David Spicer
Images: (top) Barry Ryan (George) and Anthony Dean Griffey (Lennie) (lower) Jacqueline Mabardi (Curley's Wife) and the Ranch Hands. In Opera Australia's Of Mice and Men. Photographer: Branco Gaica.
And Peter Kemp's review of the Melbourne season.
An opera adaptation of John Steinbeck's Of Mice and Men, the story of George Milton and his simple friend Lennie Small, ranch hands with a dream of owning their own farm. Unfortunately Lennie is a child in an adult body and causes trouble enough to keep them moving on, which makes it hard to realise their dream.
Opera Australia had three sets, a clearing in the wood, the ranch hands bunk house and a barn interior. The scrim was used to full advantage particularly when changing scenes for the final act. It was used as a movie screen showing the chase after Lennie. This was very effective and giving time to change sets without boring the audience.
The sets really set the atmosphere of the venue and period.
Barry Ryan was George Milton who suffered Lennie's troubles. Ryan was excellent in the role and in the opening scene and the finale the duets between his baritone and Griffey's tenor was exemplary.
Anthony Dean Griffith was Lennie Small. A perfect characterisation of the simple and strong Lennie. His acting really caught the feel of Lennie and his singing was well balanced with Ryan's.
Bradley Daley was the rancher Curley. Daley captured the bad tempered rancher with finesse and his voice kept the standard set.
Candy, the one-armed ranch hand who also had a dream was portrayed by Jud Arthur. Another good performance with Arthur really living the role.
Curley's wife was played by Jacqueline Mabardi. She was the sensuous bored wife of Curley, trying to make out with the ranch hands and to be friendly with Lennie. A wonderful interpretation of such a character balanced by a strong clear voice.
Opera Australia and Bruce Beresford gave the audience a wonderful night of opera.
To keep up with the latest news and reviews at Stage Whispers, click here to like us on Facebook, or follow us on Twitter.