Midsumma 2012 Reviews
Daniel G Taylor is out and about at Melbourne's Midsumma Festival
The Year of Magical Wanking
By Neil Watkins. Director: Phillip McMahon. Designer: Ciarán O'Melia. Theatreworks. January 17 - 29, 2012
It's hard to take some of the toughest taboos of gay life –HIV, drugs, sexual addiction –and make a theatre piece that's beautiful.
Fit Irish lad Neil Watkins performs a poetic monologue, going into the joys of wanking, the realities of life with HIV (you get free food, bless!), an addiction to the kinkiest porn imaginable, and lots and lots of smoking weed.
Blonde 33-year-old Watkins has an angelic look that contrasts with his subject matter. Take a look at him and you think, this is the kind of guy I'd take home to meet my parents. This works because Watkins's honesty exposes the dark side that's in almost everyone, but most people cover up for the sake of propriety –ah, if only everyone was as honest as Watkins, the world would be more real.
Watkins gives a well-balanced emotionally confronting performance, punctuating the heaviness with humor. This changes it from a piece of walk-away-and-slit-your-wrists theatre and brings it to a level where it will make you walk away examining the choices you make.
He matches that emotional pacing with varying levels of energy that keep the audience engaged throughout.
Ciarán O'Melia's reductionist set design keeps the focus on Watkins rather than distracting with unnecessary visuals and props.
It's one of the must-see Midsumma shows of 2012.
Daniel G Taylor
The Bitter End
By Kurt Phelan. Little One Theatre (NSW). Downstairs at Alma's. Director: Stephen Niccolazo. Dramaturgy: Natalia Savvides. January 22 - 31, 2012
Once, breaking up was simple. You parted ways and never spoke to each other again. Now Facebook allows you to stalk your ex at leisure.
The Bitter End charts the decline of a gay relationship that was once so beautiful: the kind of couple who match like bananas and chocolate. You dream the cutesy couple will stay together.
Sean (Kurt Phelan) and Angus (Matt Hopkins) meet at a nightclub and find themselves in a relationship almost as soon as they meet. It works for a long time but falters when Sean moves to Melbourne for work.
Sean surprises Angus with an unexpected move home to Sydney, only to find his boyfriend no longer wants him because of his own insecurities.
Except for the endless, ambiguous Facebook stalking.
Kurt Phelan has created a play that works on all the important levels: the story is instantly relatable as social media is one of the hottest topics of the day. His character Sean is realistic, not a hero or villain.
Matt Hopkins has the task of making an unlikeable character work, which he does as he brings Angus's insecurities bubbling to life.
Catherine Davies gives the playful dildo-obsessed recently-out Katherine the needed spunk.
Kurt Phelan assured me after the show that he won't be writing and performing his own show again. This is the Australian theatre scene's loss.
Daniel G Taylor
Tom Sharah in Que Sera, Sharah
By Tom Sharah. Fortyfivedownstairs. January 25 - 28, 2012
Two things point to the quality you'll find in Que Sera Sharah: for starters, the venue fortyfivedownstairs is known for its high calibre shows: second, the image in the poster of Tom Sharah with his model looks looking wistful screams classic.
Sharah leads you on a tour of his musical influences, at least those in his vocal range — Whitney Houston's power ballads are out of the range of most men. These range from classic songs that younger audiences unaware of their musical history won't know to the Spice Girls, which some of the older members of the audience will wish they don't know.
Twice Tom brings his younger brother Oscar onstage for an acoustic duet. They first sing a love song and perform it with so much love in their eyes - directed at each other - that a girl in one audience found it gross. So to the line-up they added a break-up song to complete the arc.
Sharah's voice deserves comparisons to angels, the heavenly host and all those other divine cliches. He's good and an aural wet dream.
He's also unashamedly very gay (read girly) and proud of his Lebanese/English heritage, even when it means he's either too dark or too light for some of his dream roles.
To stick with the heavenly image a moment longer, Tom Sharah is an upcoming cabaret performer who you can expect to soon receive invites to entertain the saints.
Daniel G Taylor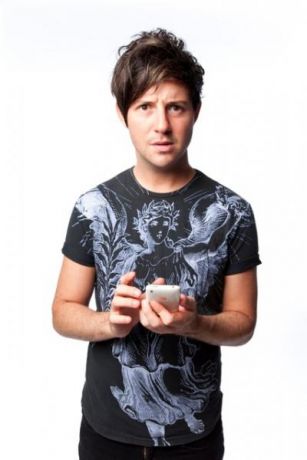 Grindr: A Love Story?
By Nath Valvo. Gasworks Arts Park — Studio Theatre. January 19 - February 4, 2012
This year's Midsumma has two shows looking at life on Grindr, the ubiquitous app that allows gay men to meet guys nearby.
To show how easy it is to hook up with men off Grindr, Nath Valvo picks a 60-something Grindr virgin from the audience and sets up a profile for him on an iPad 2. He's the kind of guy who in a club would largely be overlooked, but by the end of the show, 25 guys have chatted to him via Valvo's sidekick Tom Jaspers, who is doing the talking backstage.
What Valvo presents is a tour of the funniest moments from his two years of adventures on Grindr, and of course the freakier kinkier men you'll find online.
Tom Jaspers, making his standup debut, opens the show with his rapid-fire humor that has you laughing at his next joke before you've had time to finish laughing at the first.
Valvo's offering last year, Fag Hag, started with a burst of energy that he managed to maintain against the odds. Grindr: A Love Story is less energetic but is a more mature show, and Valvo's pacing and delivery are on target all the way throughout.
And rather than him standing on stage firing jokes at the audience and the standard interaction, he has the audience taking part in quizzes and feeling comfortable enough to interject.
Nath Valvo has the King David gift, everything he touches succeeds. He's an accomplished comedian whose star is rising and will continue to do so.
Daniel G Taylor
Candice McQueen: NASTY!
By Candice McQueen
The Butterfly Club
January 31 - February 5, 2012
With Candice McQueen's opening monologue you have a sense of the type of unpredictable show you're about to sit through —where boundaries are ignored.
She blends myths, icons, storytelling and singing with edgy standup. Her timelines get out of sync as she tells how her heart of ice melted because of her love for River Phoenix. As such, he takes her to "the most romantic movie ever" Titanic —he died in 1993 and the film was made in 1997.
After Phoenix dies, McQueen heads into a twisted version of heaven in a hotel, populated with dead celebrities who spend their time teaming up to perform in ways they couldn't have when they were alive.
McQueen's humor is as her show suggests, "nasty". For those who were there, I say six words: the name of Helen Keller's dog.
The best comedians go to risky places with their humor. But McQueen often crosses the line from edgy to straight over the line that has the audience gasping in shock.
It's the kind of show that an Australian performer would avoid because it goes too far. As it is, it's fresh and unexpected and breathtaking. But you will walk away wondering whether the show worked for you.
During the show, McQueen mentions how she's emotionally dilated like she's been snorting amyl. Perhaps that explains why she's more open than is wanted.
Daniel G Taylor
The Pineapple Sorrows
By crossditch (Vic). La Mama Theatre. Director: Felix Preval. Producer: Remi D'Agostin. Costumes: Chloe Greaves. Set Design: Laura Twomey. Lighting: Rebecca Etchell. Music composed and performed by Dylan Lardelli. January 17 – 29, 2012.
Cross the stage to your seats and you pass three semi-naked actors in gold hot pants, snack food headpieces, and wrapped in Glad Wrap.
It sounds weird and I worried this was going to be one of those experimental nonsense plays. Fortunately I was wrong.
The premise is bizarre and fresh: an asparagus, a deviled egg and a Frankfurt are mourning the passing of the much loved pineapple.
From here, crossditch uses psychologist Elizabeth Kubler-Ross's work on the five stages of grief to look at what goes on in the lives and emotions of those who are left behind.
It's a tragi-comedy with singing, dancing, and a game show with a live studio audience, So You Think You Can Grieve.
Overall, this is a sophisticated production that fires on every level. Penny Harpham as the egg and Sherilee Kahul as the frankfurter give the women eye-candy, while Jake Preval as asparagus does the same thing for the guys. Appropriate to mention, because of their shortage of attire.
The highlight of the show is when Jake describes his first penetration by pineapple. He matches the humor of what's saying with erotic physical actions.
All three fire on the comedic beats, act in a way that makes an absurdist script believable, and sing so that you're laughing and clapping.
You may not have known what to expect when you crossed the stage on the way in, but as you leave you'll have appreciated an outstanding show.
Daniel G Taylor
Boylesque
Greyhound Hotel. Every Friday night, ongoing.
In the 1990s the Greyhound was a small dumpy dive that drew crowds because of its classic St Kilda vibe and reliable drag shows.
Now the venue has been facelifted, with two spaces for shows. The main stage is massive, with an elephantine multimedia screen at the back. It's the most extravagant space I've seen in Australia in a regular venue for drag shows.
Boylesqueuses this space to its potential. Paris is the star, with 12 male dancers. As people come to these shows to see the eye candy, it's appropriate to mention that almost everyone is going to find a man to admire. The dancers range from beefy muscular to boyish muscular to girly muscular.
Inspired by Kylie's 2011 Les Folies tour, those who have seen both will spot some familiar ideas: lavish but skimpy costumes, massive-scale ideas, aerial acrobatics and a playful approach to the material.
At one point, an aerial acrobat does a breath-taking solo. He's the best of these I've seen and when he drops down, your stomach lurches. Even if there weren't other reasons to see this show, his performance alone is worth the time and money.
The choreography ranges between the remarkable and mediocre. The main flaw is the weak lip-synching, making the show at times look like you're watching a foreign-language film dubbed into English.
At heart, this is a basic drag show with the ideas implemented on a bigger scale. If you're a drag fan, you'll want to check this out.
Daniel G Taylor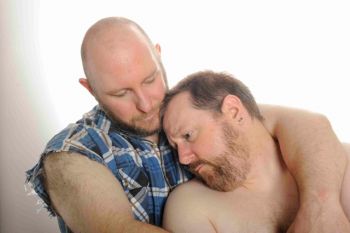 Man Boobs
By J Julian Christopher. VicBears ARTicle II (Vic). Kerynia Café. Director: Jack Chapman. January 19 - 21, 2012.
Bears – gay guys with bigger, rounder, furrier bodies – seem so comfortable in their own skin that it can be easy to forget they can have struggles with body image.
Man Boobs chronicles a night in the life of the ruggedly handsome Marty (Raymond Lee) and the highly insecure but sweet Spence (Phil Webster). They're up to their third date and for the first time the sex will be naked.
Well, that's what Marty is expecting but Spence can't believe that someone that hot is really into him. At school, Spence was traumatized because of his man boobs and is terrified of removing his shirt.
Under the circumstances, Marty tries to be supportive and help Spence through his issues, but insecurity is one of the biggest turn-offs (can't you just let people make up their own mind about whether they think you're sexy?).
Lee plays Marty with a cocky confidence (but not arrogance) that contrasts with emotional boils Webster must bring to the stage as Spence.
Set in an apartment in Fitzroy, the play is performed above a cafe in Fitzroy, and the cluttered, untidy set rings of authenticity.
Despite the heaviness around the issues of body image and insecurity, the play has so many funny moments that you'll be woofing with laughter.
If you've ever felt rejected for being different, see this.
Daniel G Taylor
Negative Energy Inc.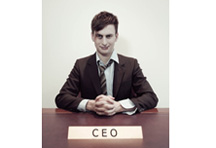 By Ash Flanders. Theatre Works. January 15 - February 5, 2012
What's right in the world today? Ask Ash Flanders and the answer is very little, as he attacks society's rampant, pointless positivity?
This is cabaret, where Flanders combines singing, comedy and acting as he tells his stories of what's wrong with life. His view of the world is darker than what self-help gurus and Oprah promote.
He starts his journey with a series of shocking images ripped from the news, and we all know how uplifting the 5 o'clock news is.
From there he leads the audience on a journey about how he became the Queen of Negativity, the problems he has with The Secret, and how every religion has its dark side –homophobia and misogyny, anyone?
Flanders is a gifted comedic writer and he brings a convincing seriousness to his view that negative is good and positive is overrated. His timing is exact and his playfulness makes him likable.
As the audience enters, his accompanist Dave Barclay sits filing his nails, something he continues to do throughout the show except when he's injecting Flanders's songs with pulsating musical energy. He also looks amazing in a pink tutu.
While this isn't a show you'll walk away feeling happy (that's kind of the point), it's an enjoyable romp.
For anyone who wants a break from endless undesired feel-good, then this will be your mini-holiday.
Daniel G Taylor
Confessions of a Grindr Addict
By Gavin Roach. Director: Luke Rogers. Producer: Peter Gahan. Stories Like These (Vic). Revolt Melbourne. January 17 - 28, 2012
If there's one ubiquitous constant in the life of gay men today, it's Grindr as the tool of choice for meeting guys.
Gavin Roach is preparing for a date –and for the first time in a year it's with a guy he didn't meet off Grindr. As such, he's as nervous as anything. With Grindr you have the chance to refine your thoughts so you sound witty and smart, but in real life it's a constant unrehearsed performance where your warts will show.
With Grindr (at least in Sydney, it get used differently in each city) your choices with guys are chat or hook-up. Both can be interesting and because of the lack of face-to-face contact, boys on Grindr tend to be blunt about exactly what they want, even when those things are outside the norm.
Gavin's confident writing is matched with an assured, well-paced performance. It's rare to see one-man shows and forget that's what you're watching.
Part of what makes the show so engaging is how well-blocked it is. Roach is always on the move, from couch to armchair and back, but the movements are natural.
Because of the popularity of Grindr, you can be certain that shows tapping into a well-ground life will abound. One can only hope they're all as good as this.
Daniel G Taylor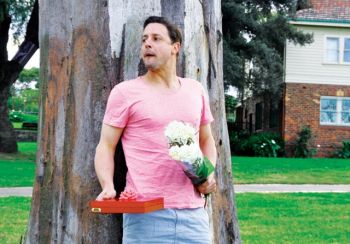 Landscape Dreaming
By Charles Mercovich. Company White Wolf (Vic). La Mama Courthouse. Director: Damian Alexander Bernardo. January 18 - February 5, 2012
Landscape Dreaminguses a familiar premise to motivate a protagonist into action - a family wedding and an Italian one at that. Of course, wanting to fit in with the rest of the relatives, he 'upgrades' to a better boyfriend, a straight actor hired for the day. And anyone over ten can see what's about to happen. The main man will fall in love with the actor and a comedy of errors will ensue. The protagonist will then learn the errors of this deception and eventually escort his real boyfriend to the wedding. Unfortunately, this idea has been done to death in a million variations before, both straight and gay, and frankly, a discerning gay audience deserves better. Other characters also assist in making this performance tedious - the nail filing screaming queen who has a heart of gold, the overbearing Italian parents, the gorgeous hired actor, and the accompanying retinue of bit players who are not aware of the hiring but help to expose the moral of the story. Their lines were often thrown about the stage and included a myriad of gay puns which often missed their target. The promise on the program of 'physical theatre' could mean anything in a gay play. Here it seems to be mostly about a big menage-a-trois, the climax (ged it!). Although this was competently carried out, it lacked a certain gravitas to make it truly convincing.
Stephen Woods
Other Midsumma Reviews.
To keep up with the latest news and reviews at Stage Whispers, click here to like us on Facebook, or follow us on Twitter.