A Midsummer Night's Dream.
By William Shakespeare. Presented by The Australian Shakespeare Company. Royal Botanic Gardens Victoria, Melbourne Gardens, Southern Cross Lawn, 100 Birdwood Avenue, South Yarra. 18 December 2020 - 24 January 2021.
This is a highly energetic and entertaining performance of Shakespeare's magical comedy, A Midsummer Night's Dream. The Australian Shakespeare Company takes a very traditional approach to the play, incorporating some contemporary elements that preserve all the original features but make the play highly accessible, helping to accentuate the comedy. The staging of the production is truly remarkable and allows for a level of grandeur and spectacular effects not usually associated or feasible in an outdoor setting.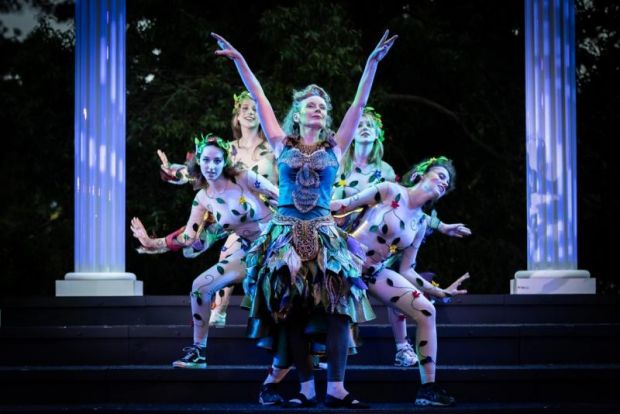 This show takes into account COVID protocols, not only in the administration of the event but also in the aesthetics and delivery of the performance. This is very reassuring as an audience member and contributes to the overall effect of providing some genuine respite from restrictions imposed by COVID. The production is a terrific example of how theatre can operate safely even during a pandemic.
The stage appears strikingly simple but makes enormous use of both the outdoor setting and extremely effective lighting. The setting makes impressive use of a variety of levels on stage, giving the performance a very dynamic perspective, which easily reaches a socially distanced audience. There are many moments when both the stage and the surrounding trees light up with a wonderful and striking array of colour. This enhances the delightful performances and exhibits a clear and cohesive approach between set design and staging.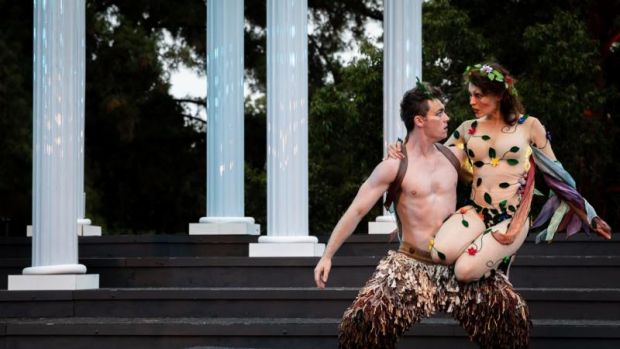 The costumes are often detailed and intricate and although the sometimes-differing styles are somewhat eclectic, this creates an interesting visual dynamic. The delivery by all the performers is heartfelt and enthusiastic.
Highlights include Fletcher O'Leary as Puck. The inclusion of some amazing acrobatics in his performance emphasises his magical and impish qualities and pushes the level of energy in the production to even higher levels. Anna Burgess as Helena also delivers a vivacious performance, making the mix up of love interests and the ensuing parody and mockery very amusing.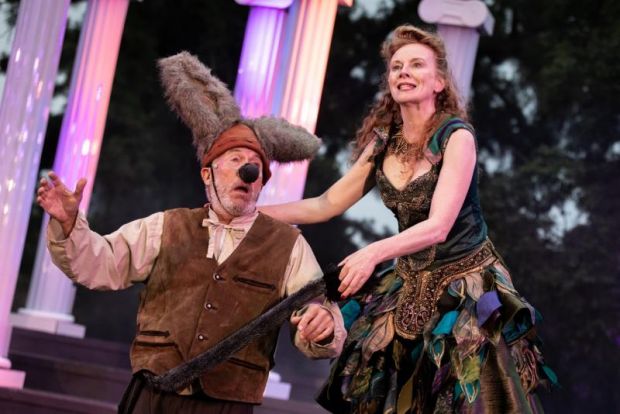 The craftsmen whose preparations for a play to be performed for the royal couple, Theseus (Hugh Sexton) and Hipolyta (Alison Whyte), produce some great farce and their environment is well contrasted with the aristocratic and ethereal spheres in the play. The magical and mysterious world inhabited by the fairies is also beautifully crafted via clever lighting and sound effects. This is combined with simple but ingenious mime, dance and gesture and creates a very enchanting atmosphere. While the Athenian world in this production becomes a little topsy turvy, the tone always remains playful with an underlying reassurance that order will be restored.
The Australian Shakespeare Company has gone to great lengths to provide a wonderful opportunity to enjoy and appreciate the Arts, the outdoors and the beauty the city of Melbourne has to offer during some very trying times.
Patricia Di Risio