A Midsummer Night's Dream
By William Shakespeare. Directed by Jennifer Sarah Dean, presented by Melbourne Shakespeare Company, Testing Grounds, I-23 City Road, Melbourne. 19, 20, 26, 27 March 2016.
This family friendly version of Shakespeare's enchanting play is treated with ingenuity and enthusiasm. While the text is trimmed the language remains largely intact, and allows the audience the opportunity to engage with both Shakespeare's poetry and his comic genius.
This play is cast with a large array of extremely talented young performers whose exuberance makes for a delightful and highly enjoyable experience. The performance incorporates live music with simple, and even rudimentary instruments, relying on the impeccable vocal quality of the actors. Powerful singing as well gentle harmonies are all aptly employed to help tell the story.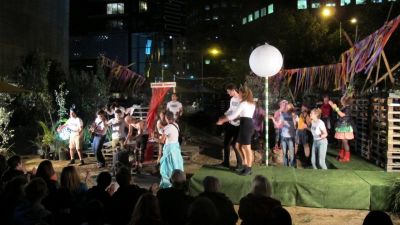 The setting is a magical green oasis sandwiched between high-rise apartment buildings and busy city roads, yet the performance rarely struggled to compete with the bustling urban surroundings. The staging brought all the action to the forefront without neglecting to create depth and dynamic use of space through very resourceful set design and staging.
The humour is generated with flamboyant performances, beautifully choreographed movement and perfectly executed slapstick. The Mechanicals are distinguished with fine detail, and Bottom (Johnathan Peck) is played with incredible candour and physical dexterity. The young couples have a modern interpretation that makes their passions easily identifiable, while the fairies are performed with delicacy and finesse, and this contrasts nicely with a deliberately coarse Puck (Paul Robertson). This is a production that guarantees high levels of fun and laughter.
Patricia Di Risio