A Midsummer Night's Dream
By William Shakespeare. Roleystone Theatre. Directed by Paul Treasure. The Amphitheatre, Araluen Botanic Park, Roleystone, WA. Feb 22 - Mar 8, 2020
Roleystone Theatre has presented Shakespeare in the Park for the first time, playing over 4 "late afternoons" in February and March. Joining a crowd of over 200 patrons at the penultimate performance, I found a great picnic atmosphere, and a great sense of occasion as patrons prepared to watch one of Shakespeare's most popular plays. The anticipation was rewarded with a high energy, exuberant production that was well directed and performed.
With the Pool of Remembrance as a gorgeous backdrop, A Midsummer Night's Dream needs no sets or furnishings. Lighting is provided by the sun, and sound design is what nature provides - most notably the swooshing of landing ducks - twice perfectly timed at this performance. The actors move through the audience - sometimes playing scenes within the "audience space" - making this truly immersive theatre, in a lovely theatre space.
The Athenians are costumed in what might be described as an early Renaissance style - beautifully frocked and dressed by wardrobe co-ordinator Penny Ramsell. William Everett-Knight brings a lovely authority to the role of Theseus, Duke of Athens, working very well with Nicquelle Rhodes as Hippolyta, Queen of the Amazons. The sun was highlighting their blonde locks perfectly, giving them a touch of royal magic. Sarah Boyle brought a new interpretation to Egeus, now mother to Hermia - a portrayal that worked well. Great work from the young lovers. Bree Hartley leads the group as a headstrong and determined Hermia, nicely matched with a sweetly loving Zac Skelton as Lysander. Max Gipson brings depth to a lovelorn Demetrius, with Becky Hunt completing the quartet as Helena.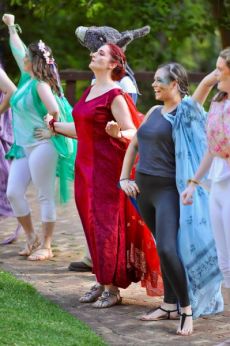 The fairy folk look more modern and are also a strong and diverse group. Oberon is likeable despite his mischief, as played with strength by Sam Barnett, but he meets his match in Jess Lally's Titania, a 2020 fairy with agency and attitude. Titania's entourage have personality and vibrancy, with great teamwork from Elise Kelly (Pease-Blossom), Monique Nelson (Cobweb), Caitlyn Boyle (Moth) and Lily-Anne Burns (Mustard Seed). Actor Andre Victor is perhaps one of the least fairy-like actors in Perth, both in appearance and demeanour, but his casting and performance of Puck is a delight. Surprisingly light on his feet, this funny and cheeky interpretation is embraced by the audience and deservedly so. The fairies' featured makeup design by Yvette Drager-Wetherilt.
The Mechanicals are excellent - playing mostly to the groundlings - while creating some really interesting new interpretations. Patrick Downes is a strong and funny Bottom, with great timing. The Mechanicals are led by Sherryl Spencer as Quince, whose final scene's "director's breakdown" is brilliant. Seren Moulds plays Flute with humour, clearly relishing the drag performance as Thisbe, Michelle Juschke's natural accent brings a lovely difference to Starveling, Mark McLeod's schoolboy humour as Snout is great, while Callum Morrison makes a strong community theatre debut as a loveable Snug (Well roared Lion!). The role of Snug was shared with Connie Wetherilt.
Kudos to Roleystone Theatre for an exciting venture, especially director Paul Treasure, his assistant Ben Small, Stage Manager Ellie Vance, Front of House manager Keith Thomas-Wurth and logistics and set-up manager Daniel Ramsell - for vision and creativity.
There is talk that if this season was successful - which it clearly has been - that this may become an annual event. We look forward to further Shakespeare in the Park by Roleystone Theatre.
Kimberley Shaw