The Mikado
By Arthur Sullivan and W.S. Gilbert. Savoyards @ Iona Performing Arts Centre, Wynnum, Brisbane. Director: Eric Hauff. Musical Director: Steven McKay. Choreographer: Lynne Swain. 24 September – October 8, 2011.
Savoyards first produced The Mikado on 2 November 1961. It was their inaugural production, so what better way to celebrate their fiftieth anniversary than to revive Gilbert and Sullivan's most popular comic opera.
This straight-forward traditional production, complete with bits of pantomime and burlesque, was in the capable directing hands of Eric Hauff, who certainly knows his way around the G&S canon.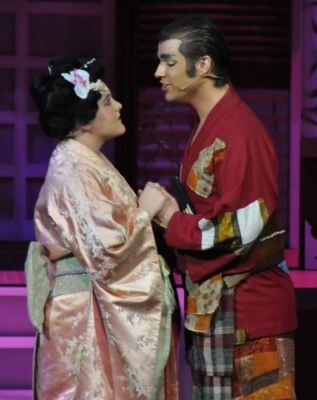 Andrew Scheiwe was head and shoulders above the rest of the cast in the iconic role of Ko-Ko, the Lord High Executioner. Self-assured, commanding, with the right touch of comedy, he was undoubtedly the star of the performance. Jordan Ross, despite some voice problems in his upper register, was an appealing Nanki-Poo, while Julie Eisentrager showed off her impressive vocal range as Yum-Yum.
Although the role's not written for a soprano, Jacequline Atherton acquitted herself well as Katisha, Neil Ballment was a fine Mikado, but John Rae's Pooh-Bah let the side down time and time again. It was obvious the role was way beyond him.
Sets and costumes were a big plus, and while the tempi of the orchestra under Steven McKay was at times a little too andante, in some respects it worked for the production, allowing the audience to clearly hear every one of Gilbert's tongue-in-cheek lyrics. Best vocal performance of the night was the second act trio "Here's a how-de-do!" It was a delight and sung with a professional flourish.
Peter Pinne
To keep up with the latest news and reviews at Stage Whispers, click here to like us on Facebook, or follow us on Twitter.