The Mikado
By W.S. Gilbert and Arthur Sullivan. Opera Queensland. Director: Stuart Maunder. Conductor: Brian Castles-Onion. Choreographer: Siobhan Ginty Conservatorium Theatre, South Bank, Brisbane, 7-28 July, 2012. Regional Tour: Gold Coast 4 August/Toowoomba 7 August/ Maryborough 9 August/Rockhampton 11 August/Mackay 14 August/Townsville 16 August, 2012.
The rousing success of Opera Queensland's sparkling new production of The Mikado, Gilbert and Sullivan's most popular work, is due to four people, Director Stuart Maunder, Set and Costume Designer Simone Romaniuk, Choreographer Siobhan Ginty, and Conductor Brian Castles-Onion. With its use of mobile phones and IPads, Maunder's production established very early on this was a Mikado for the Y generation. Ronaniuk's delightful costumes with the female chorus dressed as schoolgirls, and the male chorus as Japanese businessmen brought a fun dimension to the action, and Ginty's well-executed dance routines would not have been out of place on Broadway. But it was Castles-Onion's contribution that melded the whole together in one seamless piece. His handling of the Queensland Symphony Orchestra was masterful.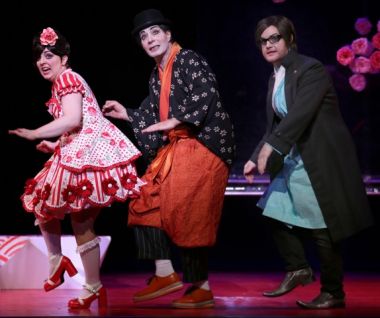 The brilliance and beauty of Sullivan's score coupled with the wit of Gilbert's lyrics carried the night.
The revelation of the performance was how well Dominic Walsh, an Opera Queensland Young Artist 2012, sang the role of Nanki Poo. His rich tenor registered time and time again, especially in his opening "A Wandering Minstrel, I." It was a clever directorial touch to have him as a street busker handing out copies of his CD, and later to bring a pop-sensibility to the action when the giggly schoolgirls mob him a-la Justin Bieber. Kristy Swift was an appropriately sweet Yum-Yum, with her second-act "The Moon and I" particularly tender. Jason Barry-Smith (Pish-Tush), Andrew Moran (Poo-Bah) and Richard Anderson (The Mikado) were also accomplished, but Adele Johnston's Katisha lacked class and was difficult to understand; a crime when you're delivering Gilbert's witty lyrics. Eugene Gilfedder, as the only 'actor' on stage, had no trouble in landing his laughs as Ko-Ko, especially in "I've Got a Little List" with its satirically updated lyrics, but this was no defining performance of the part.
Still, there was plenty to like in this production which box-office-wise is shaping up to be one of Opera Queensland biggest hits.
Peter Pinne
Images: 3 little maids in pink uniforms (L to R) Deborah Rogers (Peep-Bo), Kristy Swift (Yum-Yum), Emily Burke (Pitti-Sing) and Eugene Gilfedder (Ko-Ko); Kristy Swift (Yum-Yum), Eugene Gilfedder (Ko-Ko) and Dominic Walsh (Nanki-Poo) & Kristy Swift (Yum-Yum) in the kimono, Deborah Rogers (Peep-Bo) taking the photo.