The Mikado
By WS Gilbert and Arthur Sullivan. Gilbert and Sullivan Opera Sydney. Smith Auditorium Lyric Theatre, Shore School. October 4 – 13, 2019
Entering a performance by the Gilbert and Sullivan Opera Sydney is unlike any other amateur company in Sydney. You settle into your seat in the very posh Shore School theatre and look into the pit. There are members of the orchestra as far as the eye can see. I lost count when I got past 30.
Under the baton of Rod Mounjed the melodies of Arthur Sullivan were polished and sparkling. As for the words, well that is a different matter. Wordsmith Melvyn Morrow was commissioned to write some updates.
These went well beyond adding names to the little list of eligible candidates for execution ( I did get a chuckle about the reference to the Budgie Smuggler, who never would be missed).
Melvyn Morrow explained that "Any updates we make are just icing, not cake. The original's safe so don't worry. Cos our merry intention is fresh reinvention – a little more spice in the curry."
The Mikado was written as a satire of Victorian era bureaucracy and its transposition into a Japanese setting appears painfully patronising in 2019. Indeed the New York Gilbert and Sullivan Players cancelled their production in 2015 because of a backlash against the "yellowface".
This production opened with a delightful dance by a young girl of Asian heritage, but thereafter the yellowface followed by the truckload.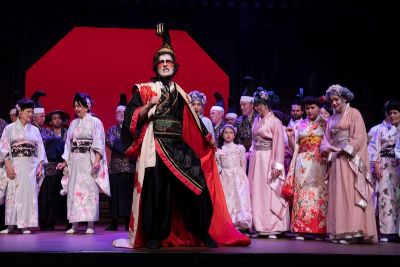 On marched the gentlemen of Japan. Most amateur theatre choruses around Sydney are filled with 20 somethings. Often the ranks of the men are thin. This company found a whole platoon of men – who were on the mature side.
It has to be said that the male chorus was blitzed by the wonderful female ensemble. They were dressed beautifully, dancing and singing elegantly.
The principals were not all in fine voice on opening night due to the dreaded lurgy. When you have such a sparkling orchestra the expectation is that the singing will match it.
However it was worth the wait to hear Tobias Page sing the title role of The Mikado and Joshua Knight often amused with his googly eyes as Pooh-Bah.
The females did not let the team down - Anne-Louise Harris was pleasing as Yum Yum and Megan Chalmers was formidable as Katisha.
Dean Sinclair had the duel job of being the Director and lead comic Ko-Ko. His passion for the comedy of WS Gilbert is boundless and he provided many moments of fine mirth.
I note he is also the President and Company Manager – which makes him the grand Pooh-Bah of the Sydney Gilbert and Sullivan scene.
David Spicer