Milos (Karadaglic) In Concert
The Recital Hall, Melbourne - Sat 1st December, 2012. Perth Concert Hall - Mon. 3rd December.
The guitar is the most personal of instruments. It is shaped like a woman and needs to be held gently against your body, cradled in your lap, in order to be played. It is a sensual scenario before a note is played. You speak to her, sometimes in a whisper, sometimes with demanding passion, and she responds. Depending on how you touch her, that response can be the most achingly beautiful expression of love that you will ever experience. Last night, in Melbourne's impressive Recital Hall, we witnessed that love affair expressed with the most extraordinary intimacy.
Milos has talent in abundance; the finest touch, the most exquisite harmonics and the overall best technique I have heard in many years. He paints his music with a palette full of colour and shade. But those alone are not what make him a success. In an era where the classical guitar is making a comeback with such talented newcomers as Gabriel Bianco, Ana Vidovic and even Paola Requena (perhaps some inspired by Milos himself) garnering new audiences, what sets Milos apart is charisma and star quality. He is not only a great and passionate musician, he is a showman as well. While some players restrict the passion to the interplay between fingers and strings, Milos shows us the whole spectrum of emotion, from the eyes closed in yearning, the grace of the hands at rest, the arch of the neck reaching for heaven, the lips slightly parted as if mid sigh, even the way he holds the guitar while taking a bow, as though a sacred offering to the crowd. He is mesmerising to watch because the emotions are not hidden. He is a star in all senses of the word.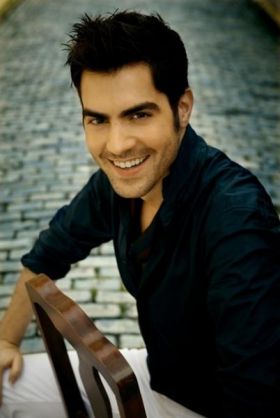 Some may criticise the programme for being too safe, but it is his first concert tour here, and first tours are not about confronting an audience, but holding them gently in thrall. Bach's Prelude and Fugue serves as a great finger warm-up exercise, and Albeniz' Asturias (I always prefer Leyenda as a title) is a "must-play" crowd pleaser. Coupled with Albeniz' Granada, the two pieces show how perfectly compositions written for piano can be transcribed for guitar. Four pieces by Vila Lobos, filled with Brazilian influences, completed the first half. Safe, but satisfying.
The second half was more adventurous, though I personally would have liked more Barrios Mangore, my favourite of the South American composers. In choosing Danza Brasiliera to open the second half, Milos invites direct comparison since the Jorge Morel piece is so closely associated with John Williams. Williams, as we know, is always (almost annoyingly) technically perfect, but short on passion. Milos adds the colours and the passion to a flawless performance. Milonga (Cardoso) and Batucada ( Savio) provided excellent colour and rhythmic variations. Then came the exquisite Barrios "Un Sueno en la Floresta", impossibly romantic in all respects and played with genuine love. The right hand tremolo, with the perfect balance of strength and delicacy, contrasts beautifully with the almost piercing downslides of the left hand. Finishing with the modern Koyunbaba ( Carlos Domeniconi) a piece guaranteed to touch the soul of even the hardest critic, Milos left us wanting more of both his talent and his smile – and there were four curtain calls and two encores….The Tarrega piece reduced me to tears. A stunning concert of beautiful music shared with a gifted artist.
Writing this review, I am playing "The Art Of Segovia", recorded almost 60 years ago, a astonishing combination of delicacy and percussive attack. It's fitting that Segovia was the inspiration for Milos continuing his guitar studies. Nobody, before or since, has bettered Segovia's understanding and passion for the classical guitar. But then, Milos is young, he has all the time in the world…….
Coral Drouyn
Photographs - Margaret Malandruccol / Deutsche Grammophon