MIRACLE ON 34TH STREET
Book, music & lyrics: Meredith Willson based on the story by Valentine Davies and the screenplay of George Seaton. S.Q.U.I.D.S. Production, Queensland Conservatorium. Director: Deanne Scanlan. Musical Director: Kendal Alderman. 15 December, 2012.
At the end of SQUIDS Australian Premiere performance of Miracle on 34th Street, the cast sang Christmas carols for encores. There was more melody in any one of them than in any song we had heard in the show.
Miracle on 34th Street is a very thin evening of musical theatre. Based on the beloved 1947 movie which starred Edmund Gwen, Maureen O'Hara and Natalie Wood, the show originally had a short Broadway run in 1963 under the title of Here's Love. The story about a man who believes he is Santa Claus and ends up in court to prove it, has enough sentimentality to cause any Scrooge to choke back the tears, but Meredith Willson's adaptation of it missed all of that with a wordy and long-winded book, and second-rate tunes. His interpolated 1951 hit song "It's Beginning to look a lot like Christmas," sung in counterpoint with "Pine Cones and Holly Berries," and performed stylishly by Sharon Walkerden, Paul Cant and Preston Parker, was far and away the best number in the show, and the most melodious.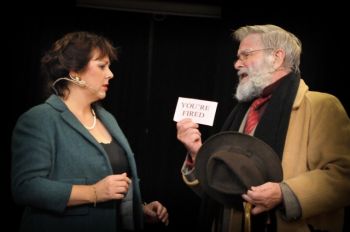 Walkerden's portrayal of the mother Doris Walker lifted the production every time she was on stage, as did Parker whose line delivery and accent was spot on for Marvin Shellhammer. Cant was an irascible Kris Kringle but sometimes had pitch problems, likewise Ron Liekeflett as RH Macy and John Sparks as the love interest Fred Gaily. The pivotal role of the young girl Susan was at this performance played by the understudy Charlotte Rubendra. Hers was a valiant effort, but it's a big part and ultimately proved to be just a little bit beyond her.
Deanne Scanlan's production was loose with the big production numbers "Here's Love" and "That Man Over There" lacking sizzle, but the use of video back projection, especially Macy's Thanksgiving Parade in "The Big Clown Balloons," worked well.
Peter Pinne