The Misanthrope
By Molière. A new version by Justin Fleming. Bell Shakespeare. Playhouse, Sydney Opera House. August 28 – September 28, 2018
Magic happens when Bell Shakespeare collaborates with director Lee Lewis from little Griffin Theatre up at Kings Cross – and even more when Justin Fleming brings the text.
Thrice he's proved a master at adapting Molière's old satires and couplets into a contemporary vernacular.
Here Fleming takes on Molière's most famous play (circa 1666) about the man who despises the false flattery and conniving of his peers yet pines for a faithless love-rat called Cymbeline.
In an inspired gender swap, Fleming makes he a she, an engagingly robust Danielle Cormack as Alceste, and Cymbeline an egocentric Sydney party boy, swearing love to her but playing off a trail of mostly male admirers.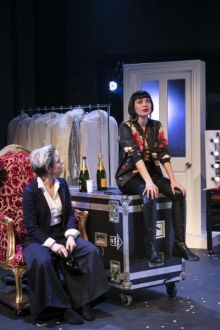 This parade marches through Dan Potra's backstage studio cluttered with props old and new, but centred on a very contemporary white photographic background perfect for strutting vanities. There Ben Gerrard's porn star Cymbeline does it best, humping a huge unicorn, to stirring musical interludes from composers Max Lambert and Roger Lock.
Fun aside, Lewis also elicits a tender truth from her excellent cast of unrequited lovers as they give full voice (sometimes not heard at Bell Shakespeare) to Fleming's wittily updated rhymes. Molièreis thoughtfully made true to our own age of cosmetic image, selfies and fake truths.
By end, Cymbeline's outrageous games are revealed but, unlike with Shakespeare, there's no blunting the satire with the sweetness of restored true love – except for two women who find themselves.
One is the indomitable Rebecca Massey as Alceste's lawyer; Simon Burke is also commanding as the guarded Arsenio; and Hamish Michael true as the musician who sues Alceste for panning his lyrics.
With Matthew Marshall's feast of lighting and Potra's sleek modern costumes, this Misanthrope thrills all our senses.
Martin Portus
Photographer: Brett Boardman