The Miser
By Molière. Growl Theatre (Qld). Windsor State School Auditorium, Brisbane, 18, 19, 25 & 26 May, 2012
This was an ambitious undertaking for Growl Theatre's second production but a wise one. I can't recall another local performance of the French satirist's work in the past decade.
With one set and borrowed lights the cast of ten entertained us royally. The company is blessed with an inspired costumier, Anne Grant. Her period creations added a stamp of professionalism.
Of the actors, several impressed me: Jason Sharland as Harpagon the Miser did a splendid job of sustaining his unlovable character throughout the five acts. Rhiannon Said (Frosine, a matchmaker) brought colour and levity to the plot. Luke Farrow's experience in stand-up comedy was put to good use as La Flèche, valet to Cléante, the miser's son, and as pre-show audience warm-up.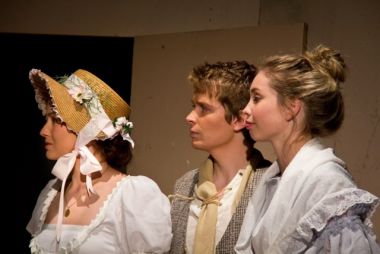 Tall Matthew Seddon played the romantic lead, Cléante, with style and elegance; and another tall (but more solid) actor Simon Corvan played Master Jacques, who doubled ─ because of Harpagon's parsimony ─ in the household staff as his cook and his coachman. Corvan revelled in the comedy of a scene in which he was needed as both at the same time.
Director, Nicole Tate, must be congratulated on maintaining good pace, a necessity in a broad comedy such as this. Incidental music on harp, modern tunes masquerading in seventeenth century style, intrigued me. Nicole Tate again!
If they can find a home theatre, this company deserves to succeed.
Jay McKee